Statistics are pretty cruel right now. Nowadays it is actually hard to trace which families are the majority – existing or already split-up. The divorce index in America is striking at its numbers – more than 53% couples officially end up the relationship. So why are people so inconsistent in searching for a long-term partner? What is the main influence when it comes to divorce? Unfortunately, these questions are yet to be explained.
Divorce is always a painful process that affects several aspects of man's life like mental and financial state. They obviously lose more than acquire. So does life exist after death? Does dating after divorce work as well? Not sure about the first question, but the second one is pretty easy to answer: YES! You can do everything as long as you are free to explore new territories. Today we will touch upon several questions, concentrating on major values. How to start dating again? How to believe women? How to avoid previous mistakes and be a healthy fresh man? Here are the best dating rules after divorce: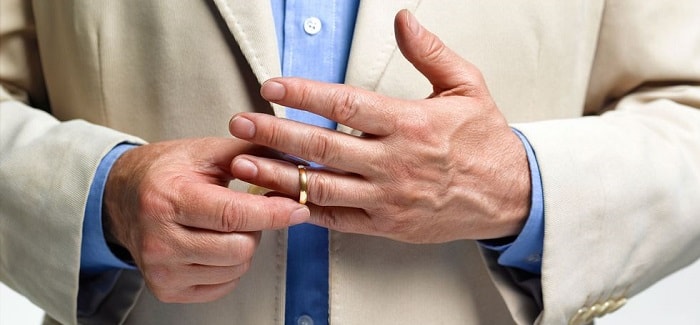 When To Date After Divorce?
Peter overcame a painful breakup with his wife. She definitely broke his heart, so the man tries to push the boundaries and does something crazy, so he jumps from one woman's bed into another. He substitutes the feeling of loneliness with random sexual intercourses.
#1 mistake: your heart is not a cheap Ikea drawer. Don't stuff it with random panties!
An astonishing number of recently divorced men confessed that they would better try Tinder dates and overpower pain than speak with friends or start drinking. It's a good, but also a very wrong point. Jumping right into new relationships is an instant, yet short-term relief. Psychologists claim that men who were told to let it go and find a dupe for his wife actually feel more pain at the end of the day because they continue living the same pattern that may have caused a divorce.
It doesn't mean you have to be mourning, but some alone time is crucial. Don't stay with your feelings! Drinking won't help either. Better talk it out with a close friend of yours. Write your opinion on an anonymous site or just talk with your parents about it. You want to start a high-quality relationship after a remedy. Don't spoil someone else's life with the stories about your ex. Wait for approximately a year or two (!), and try to date after a renewal.
It is crucial to develop your social skills, though. You are not a Tibet monk and there is no need to separate yourself entirely. Chat with women, ask out for a dinner, but, please, never start a new relationships until you are fully capable of doing so.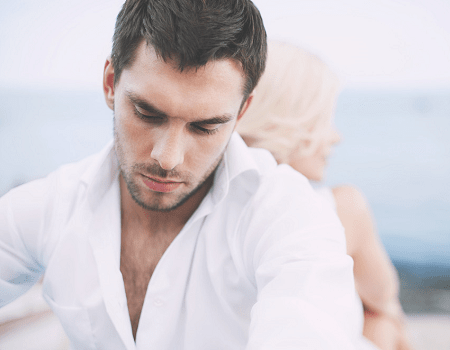 Understand your mistakes
Not only HERS. I am sure you were guilty too. Realizing is half of the remedy, they say. What was your major turn-off? She wasn't trying to insult you. Maybe you were too sloppy, lazy or passive? Maybe too possessive and bossy? Time to think of a new strategy.
Spend your time wisely
What is the best way to make you self-esteem much higher? Maybe there was a course you wanted to attend, but your family life was time-consuming (it sure was). Maybe your physical shape can be improved by going to the gym. Perfect yourself.
Don't ask for one more chance just because you feel lonely
Men often make a crucial mistake when they see ex's profile photo. In addition, they are drunk. So, random texts like an invitation to a dinner happen. And if your wife is equally stupid, you start an insane rollercoaster called 'one more chance'. Because both of you are sure that in two months both of you have changed for the better. Little did you know that everything would be amazing and romantic, but people, unfortunately, don't like learning lessons, so soon she will spend money from your family budget on a manicure, and you will cheat or neglect your need. BOOM. You came to a logical beginning, how nice!
How To Date After Divorce?
John contacted us with a problem: all women tend to leave him since he split up with his second wife. He is sure that it's some kind of a curse from his first wife. But after a quick chat with the gentleman, our psychologist understood that he pronounced the word 'wife' with a negative connotation approximately fourteen or fifteen times. Soon the specialist understood that black magic or mystery is not the case here.
#2 mistake: new dates are not free therapy
Our patient's new girlfriends must have been really tired of those tragic stories, so they left with practically no hesitation. Let's get back to the first statement and see that happens when we don't let things happen naturally and project negativity onto others. Most men only pretend to forget past problems, so they tend to hop into a NEW life with an OLD way of thinking, 'successfully' suppressing their emotions. That way, new passions quickly become shrinks for a day.
'Oh yes, she was a total bitch!', 'I hope you won't let me down like she did', 'She disrespected me like that', 'If your intentions are not as serious as mine, I want to know now'. Are you over your past? Because it really seems like you are not! Dating after divorce is not simple, but you MUST sort all of your problems out.
Show women some respect, like those years between you two never happened. Give your new girl a chance. Don't mention your problems. If you are not ready, wait until it's hundred percent comfortable. Women hate realizing they were not the only one. You wouldn't be happy if she started a long story about her ex with all of the author's remarks.
How To Date After Divorce At 40?
Jack is 44. He has been recently divorced and has a child. He neglects new partners as they can ruin his bachelor life. Jack is insecure; he prefers not to register at dating sites at all.
#3 mistake: I will dedicate my life to my child entirely, as I have no chances
Some single parents do not get acquainted after the divorce because they are worried that a new partner can have a negative emotional and psychological impact on their children. NEVER let your children make decisions for you, so leave aside the idea of consulting them about whether to get acquainted with someone again or on the topic "do you like her." Cease at the root of possible jealousy and clearly share the relationship with the child and the relationship with the new partner. Children often become jealous as they have lost one parent and don't want to lose another one. They think that a new lady is 'bad, she steals father's time, she wants to make us detached'. It's an understandable reaction but think for yourself before this lonely loop takes over. Your child will regret such behavior forever as he or she grows up, believe me. How to start dating again? Chat with your colleagues, have some nice photos in your profile, attend the meetings, exhibitions and places for serious people, not for students.
First Date After Divorce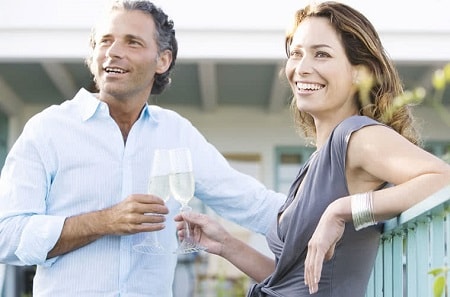 Sam had enough courage to join the cult of men dating after divorce. He arranged a meeting but forgot to be a normal person. Jessica, who happened to be his lovely date, would never understand that Sam used to be in a long-term relationship with wedding rings involved. Unfortunately, he sublimated for such a long period of time that a poor man totally forgot how to talk to females. He was too shy, then too alpha, then too sexual, then too sentimental.
#4 mistake: everyone is his own story, but don't be a tragic one
First dates can be overwhelming even for professional daters. Be timid. Be a gentleman. Be a normal person. The worst thing you can do is behave like a divorced person. Have an attitude of a single person, who is free, but not too worried about it. I know it can be a forgotten experience, but turning yourself into one giant box of emotions can certainly spoil your first impression.
You want to appear mature, mysterious and be a boss of her life. She has to think "God, how he was single till today, I must be really lucky to get such a piece of cake', rather than "Gosh, he is obnoxious. Can he stop talking about engineering and suing his ex-wife." If she asks how you relationships ended, it's a subliminal interrogation. Your new date actually wants to know what your worst sides were. So God forbids you to talk about your addiction to beer and cards, staying up late and disrespecting your wife. Otherwise, your new date will understand that you will treat her the same way the other day.
Never appear aggressive. Be a gentleman and say that you appreciate your wife and you are actually good acquaintances. Don't use the word 'friends', because she doesn't want you to be that good of friends – it will raise a lot of jealousy. Don't go to the other side and say that whenever you see her you want to spit in this bitch's face. It sounds horrible and harsh.
Better never speak about it at all avoiding all corners. Be a pleasant single prince with a lot of potential and six-pack than a weather-beaten bachelor! Embrace your past, but don't hesitate to live for the present and future!