ID: 981643
Ukrainian single girl Snezhana, 34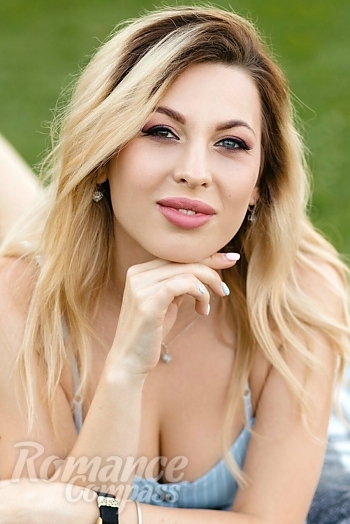 Pets:
I love animals. Hehe. Very much. Animals are very cute hehe. They are very gentle and loyal. They are always ready to give you all their attention and it is very nice! But, unfortunately, at that moment, I do not have pets. If you have - I don't mind
Hobbies:
I love to do many different things. If the mood is good and the weather is good, then can go for a walk in the park! I love nature and enjoy the fresh air. If the weather is bad, can watch some good movie, or listen to good music, or do some household chores. This relaxes very well hehe. I like cooking and knitting. And when I find my man, my main hobby will be spending all my time with him hehe. I hope he will not mind hehe
Sport:
I have a good attitude to sports. I like to play some non-complicated sports games, if possible. For example, I would not refuse to ride a bike with you, if you like. hehe or walk along a forest path breathing fresh air. I like to watch sports games and c
Music:
Good music is always a pleasure to listen to. I like different music, including classical. I love listening to music. Today in the world there is such a large selection of different genres and styles of music. Basically, I listen to music when doing house
I spend the weekend ...:
On weekends, I usually do my housework, washing, cleaning, mopping, dishes, and so on, while there is some kind of movie on TV or music for the atmosphere. Hehe. Not a lot of fun in life, right? Hehe. But this is how it is now, because I am alone. And when I find my man, I'm sure that we can spend the weekend more interesting and exciting together. Hehe. How do you think? Hehe
English level:
speak at a good level
Aim of acquaintance
What is the purpose of dating for a single woman? I am here to find my only man who is ready to act and ready to become happy with me, to share every moment of life together. I just want to share my life with one man and forever. How do you think I'm
About me
Hello darling! If you read these lines now, it means that we have a chance to build relationships together. Maybe you will agree with me, simple ukrainian woman, that things like trust are very important in a relationship. And communication is a good way to get this trust and take the relationship to new levels. I know that we must respect each other and to start respect each other we can from honestly tell each other about ourselves? What do you think? I am ready to take this first step.
About my partner
What I'm looking for in my man ? If you don't mind, I will say a little about myself. I am ukrainian woman. I do not chase the quantity. Money is not the most important thing and not making us truly happy! Many lovers do not make us feel in love. Do you think so too ?? So, I want to find one man and make real feelings. I am ready to do a lot and work hard to get this happiness. In the life of every woman there are some secrets. If you want to know then write me, I will tell you. I am an open person! Be happy, darling! My best wishes for you!