If you ask any guy what is the most important feature of a woman, most of them will answer some cliché things like 'kind heart' or 'beautiful freckles', but there will be no brave people who will tell ladies the truth. The thing is, no matter how nice you are on the inside, there will be still more things to work on. This is why sporty women are the sexiest. And let's not talk about discrimination, objectivation or other unreasonable claims that should not be applied in this article. Men consider sporty women hot just because of the amount of work they manage to perform in order to improve their bodies. The matter of aesthetic pleasure that comes along with strong muscles, sculptured abs and attractive booty, comes in the second place.
Which sport exactly turns men on? Researchers and sport analytics conducted a survey, and here is what they found out. The sexiest athletic disciplines are beach volleyball, gymnastics, sport dancing and pole dancing. But the sexiest sport so far is tennis.
The richest Russian tennis player Maria Sharapova, the first racket of the world Caroline Wozniacki, the titled Serbian sportswoman Ana Ivanovic and many other famous tennis players are known to the whole world not only for their delightful game, but also for the beauty that brings them additional financial profit through sponsorship contracts. And the moans, tennis players make during strikes on the court, are highly appreciated by male audience. Today we collected the list of hottest female tennis players in the world. You are welcome!
1. Maria Sharapova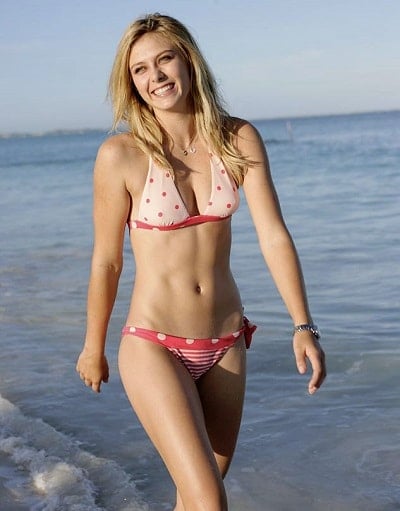 When we talk about sexy female tennis players, it is quite reasonable to start with the name of Maria Sharapova. She was the only Russian back in the days who was included in the list of most influential celebrities. She enters not only the 'top female tennis players' chart, but also the 'Top-100 richest' people list. Maria was born in Russia, her parents later resided in Belarus. In 1995, Masha and her father moved to the United States. She went to Bradenton school. Maria Sharapova lives there now. After moving to the Unites States, Maria Sharapova's life was very difficult. The schedule of activities and physical exercises turned out to be so exhausting the girl needed considerable courage and willpower. But Masha overcame all the difficulties. Now she has a really militant spirit of a warrior. It was during this period that the will to win at all costs was her creed.
Since childhood, Sharapova has developed her own style of playing tennis. Each toss of the athlete is accompanied by such a moan that all rivals on the court just can't keep up with it. It turns out that some of her noises on the court reach 105 decibels. And this is equal to the sound of an engine in a jet plane. Pretty powerful, huh?
Forbes Magazine placed Sharapova in the '100 most influential world celebrities' list. At that time, the girl became the only Russian woman on this list. In the period from May 1, 2010 to May 1, 2011, Masha was also included in the list of the world's highest paid athletes. For that year Sharapova's income reached $ 24.2 million.
In 2013, Sharapova was mentioned in the Forbes Magazine for the ninth time in a row. According to the magazine, the total income of the tennis player has reached 29 million dollars. This blond athlete was also considered to be one of the sexiest female tennis players, shooting for covers of men magazines. Indeed, Russian female tennis players have a strong hand, but an angelic appearance.
2. Caroline Wozniacki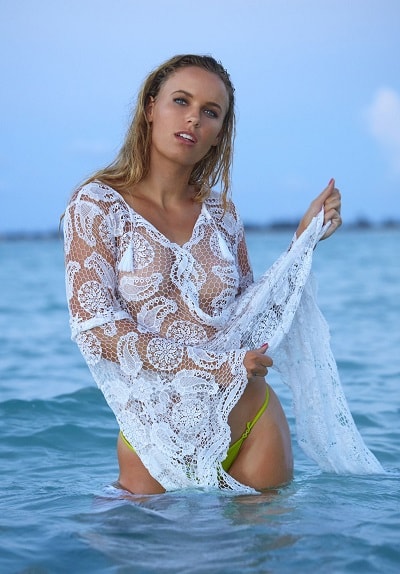 Widely known in sports circles, a Danish tennis player Caroline Wozniacki was born in June 1990 in Odense (Denmark). She has Polish roots, and her parents were professional athletes in the past (her father played football, and her mother was a volleyball player). Caroline played the big tennis since the age of seven. Initially, Wozniacki trained under the guidance of her father. Throughout her tennis career, Caroline Wozniacki earned almost $ 12 million, which is a pretty good earning to make in this sport, given her young age. Riccardo Sanchez and her own father train Carolina for the competitions. Caroline's elder brother is a tennis manager in the team where she plays. Caroline Wozniacki prefers a left-hand strike and has a good speed; her favorite attack is a strong one. Caroline was titled as one of the most hot female tennis players, posing for beach photo shoots and in nude.
3. Ana Ivanovic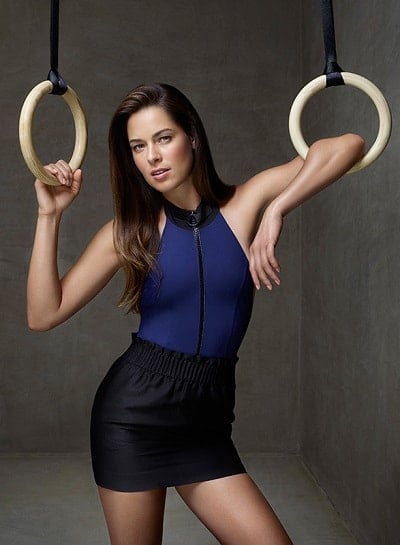 The life of one of the most famous female tennis players resembles a Hollywood drama. Ana was born in Belgrade (Serbia) and started to play tennis at the age of five. When she was eleven, the country suffered from terroristic actions, so despite her native city being bombarded, Ana still had some time and courage to play big tennis. But one day, when Ana was heading to the court, she found only fragments of the rocket. After that, the family of Ana managed to move to Switzerland, where she started climbing the tennis Olimpus step by step. She became a number one tennis player in 2008. And that is not her only virtue. This hot tennis player collected a whole army of fans. Her fans were attracted not only to Ana's sports successes, but also by her charm, affability, openness, and goodwill. Today, she has 1.4 million subscribers on Instagram and 2.78 million fans on Twitter. This brunette women has stunning curves – this was proven by paparazzi who captured a nude female tennis player on the beach.
4. Martina Hingis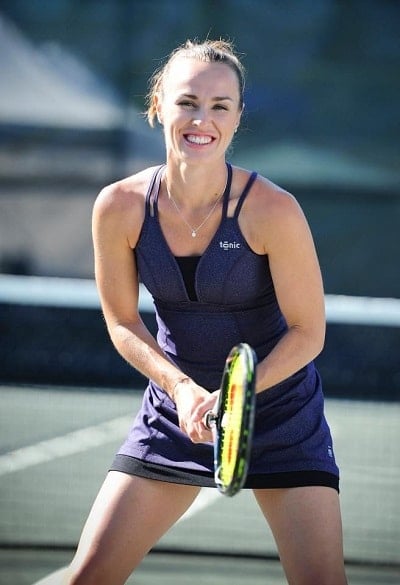 As a child, Martin fell in love with the sport. At the age of three, she started skiing and picked up a racket. At the age of five, under the guidance of her mother, she began training and took part in the first serious tennis tournament in her life. The junior career of the future champion was truly enchanting. In the period from 1989 to 1993, Martina invariably won at all championships in Switzerland, won the European Championship twice and a number of international tournaments as well. In 1993, Martina won her first junior "Grand Slam." In 1994, Martina successfully made her debut at WTA-tour. By the end of the year, Martina occupied 87th place in the rating, and on June 12, 1995, she was among the top 20 tennis players of the planet. She is one of the most hot female tennis players mainly because of her natural beauty and stunning looks outside the tennis court.
5. Maria Kirilenko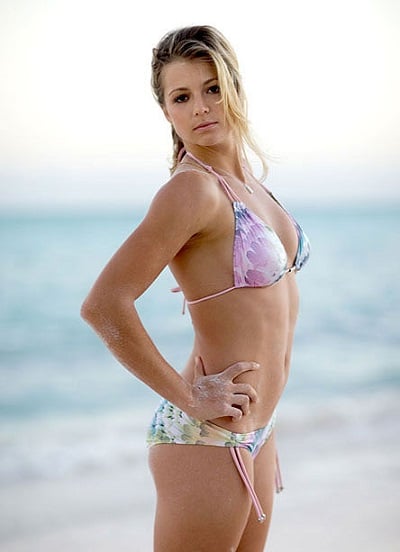 Maria Kirilenko is a talented young tennis player, whose career is rapidly gaining momentum. She achieved several wins at the Olympics and Grand Slam tournaments, therefore the name of the talented Russian woman became known all over the world. A true stunner, Maria Kirilenko has an attractive appearance and slender forms. Russian tennis player achieved the tenth position in the women's rating of WTA, and soon she began to train tennis players, working as a coach. Her fans are happy to watch Maria's life inside and outside the tennis court.
6. Dominika Cibulková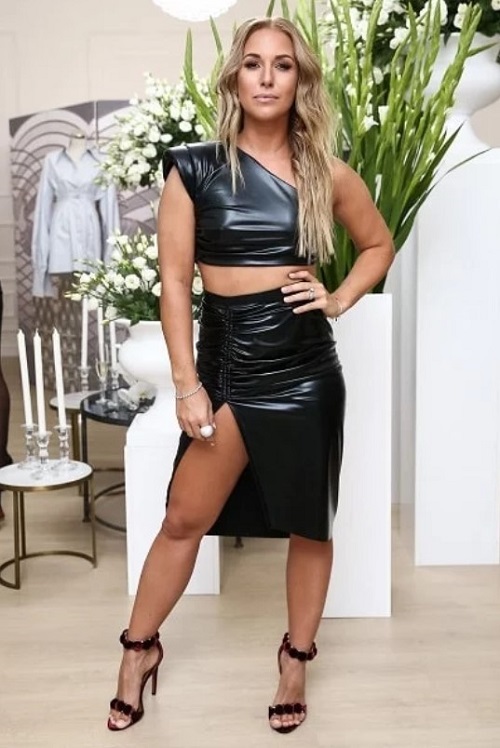 If we talk about beautiful female tennis players, it is only fair to mention this Slovakian stunner. Dominika Cibulková is the seventh in the world ranking at the moment. The girl pleases the fans with a stably bright game and with a pleasant appearance. The owner of a sporty tight body shot more than once for advertising campaigns, sports and men's magazines. The girl is 29 years old and many sport successes are still to be achieved.
7. Camila Giorgi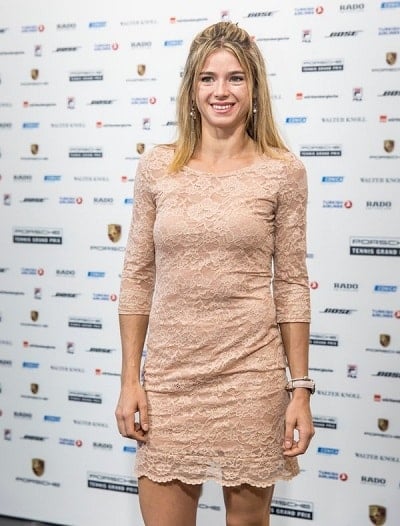 The list of sexy female tennis players couldn't do without this blonde beauty. Camila Giorgi was born December 31, 1991 in a Jewish family that lived in the Italian city of Macerata. The girl started to play tennis at the age of five. Her father brought her to the court, and he is still joining her during the games. Before playing tennis, Camila practiced gymnastics. According to 2012 data, Kamila Giorgi is 77th in the singles category of the international rating. In the doubles, she still hasn't won a chance, since her only performance ended with a loss. Giorgi has 5 wins in ITF tournaments.
8. Jovana Jakšić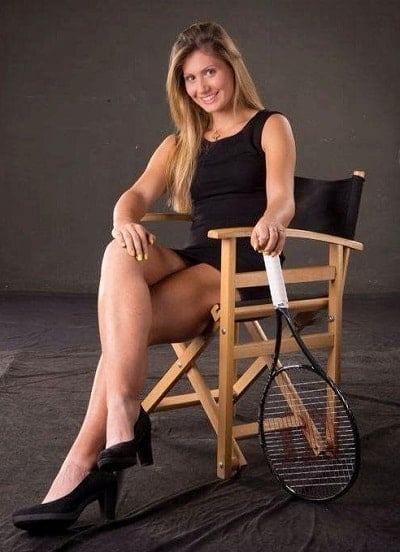 Jovana Jakšić is a Serbian tennis player and one of the hottest tennis players female representative. Jovan has been playing tennis since she was eight. Her mother was a tennis player in the past, so it's no surprise that the girl followed in her footsteps. Jovana's debut at the WTA tournament took place in 2013. Yakšić qualified for the main draw, defeating Vera Dushevina in the first round. But, unfortunately, she lost to Russian tennis player Maria Kirilenko in three sets in the second round. This Serbian tennis player speaks English, Spanish, Italian and German.
9. Victoria Azarenka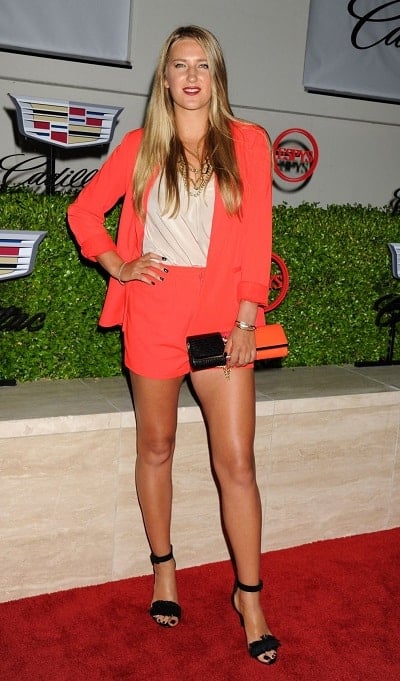 The Belarusian tennis player spent 51 weeks on top of the rating list, having won the Australian Open twice participating in two US Open finals. In addition, at the 2012 Olympics, Victoria won a bronze medal in singles and gold in a mixed competition with Maxim Mirny. However, in 2014 Azarenka had a serious injury, she missed half the season and dropped out of the top 30. Now the Belarusian player is slowly recovering. She recently made her way to the final of the Doha.
10. Elina Svitolina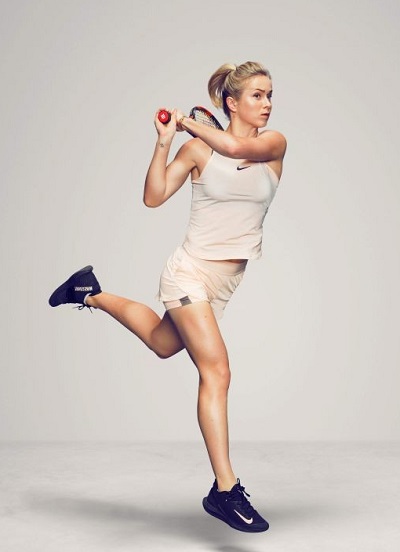 With every season, Elina Svitolina climbs all the way up the rating ladder. A Ukrainian tennis player was in the second hundred two years ago, and now she has her warm place in the top 30 tennis players. For sure, this pretty and sensible girl will not stop at what has been achieved and will continue to progress. This Ukrainian stunner has gained fame among fans as one of the youngest hot tennis players female representatives.