Feeling too sexy to have fun, or too funny to scare, or, God forbid, too scary to have sex with? There's a lot of pressure to find a shape that properly accentuates your disposition to successfully crush a pumpkin party. Obviously, you could use your birthday suit as a regular fit for years or even stay in bed. But chances are you'll miss Her…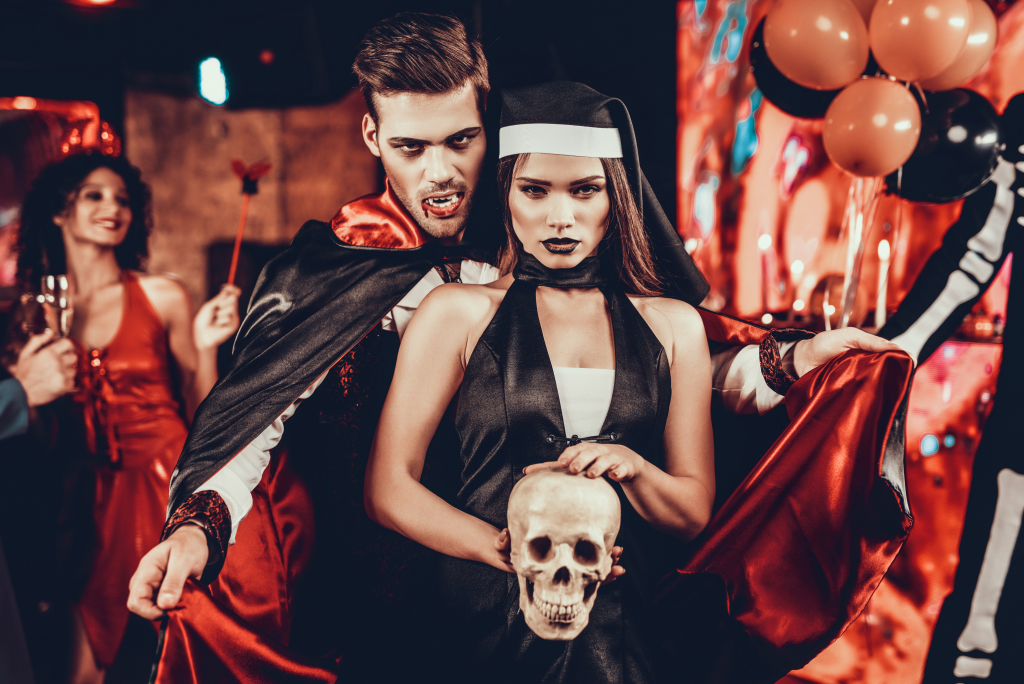 Now let's try to experiment with all three states of mind these doomed days. Look through the funny and sexy and spooky Halloween costumes for you and your lady.
Funny Couples Halloween Costumes
For those wanting to add some grotesque charm to the Halloween look, especially if some minor clothing alterations are needed.
Magician and Rabbit Costumes
Pick up one if you are in the mood to fight the powers of their cynical society with bunny ears and a top hat for her and a favorite magic wand for yourself. If you turn her head back and forth really fast, she could see her ears.
Tip: Try to evoke the spirits of Harry Houdini to succeed.
Old Married Couple Costumes
If you like wearing pajamas all day long, you probably will not notice like you're dressing up, though. However, "old married couple" costumes are the easiest to adopt, as you both are still kids.
Tip: Share the feelings of a grandma and grandpa with other kids.
Harry Potter and Friends Costumes
If you want to become a student of the Gryffindor House, wear a black Harry Potter robe and wrap up your Hermione. Recall your past college life - outrageous and reckless - and squeeze into your graduation gown and a cap, or buy an original robe online.
Tip: And don't forget your wand, of course!
Priest and Nun Costumes
The least nonsensical atheistic idea applies to believers, too. Halloween is a time to unreservedly stand together to fight a boring essence deep inside ourselves. Yes, it is not the only time of the year when you feel blessed.
Tip: The help of a virtuous nun is more efficient at exorcising demons.
Sexy Couples Halloween Costumes
If your libido goes to hell, then look no further. These sexy costumes will boost your devilish sex appeal and reboot your sex drive.
Kissing Sailor and Nurse Costumes
Inspired by the famous photo of a sailor kissing a stranger, dental assistant in a white dress, on the V-J Day in New York, 1945. Actually, the guy was trying to kiss each woman on sight to feel the taste of victory, but you better stick with your lady's taste.
Tip: Your Popeye outfit might be incomplete without a tobacco-pipe.
A Greek God and Goddess Costumes
You would not be so sure putting on the full armor of God to stand against evil if not your goddess. Wear classic costumes, completed with gilded accessories and leather sandals. By the way, the myth of Eros and Psyche, the god of love and his spouse, is one of the first love stories to have survived to this day.
Tip: You are a personification of intense love desire, while your Psyche personifies a human soul.
Bonnie and Clyde Costumes
Perfect for those natural-born crime movie fans, who know how to cook up a bank heist with no witnesses. But do not forget how pathetic that infamous couple looked at the end of one of the most spectacular manhunts of the 1930s.
Tip: Give your Clyde a second chance, and avoid drawing bullet holes on your white shirt in the upper left corner.
Doctor and Nurse Costumes
A cliche, but doctors marry nurses from time to time, sure thing. So, if it's not your costume of choice this year, go visit a doctor.
Tip: Going with the real lab coats is apparent during the COVID-19 era.
Scary Couples Halloween Costumes
Imagine any of these scary couples' Halloween costumes, as Halloween is a time to meet up with some merged, revolting souls.
Skeleton Bride and Groom Costumes
If you still hesitate to dress up as a newly married couple, you can pair skeleton makeup with a tux and wedding gown and scatter dead butterflies around you, or dissipate their ashes at least.
Tip: If you accidentally pair a white tux with a black dress, nobody calls you a pumpkin head, as usual.
Scarecrow Costumes
Inspired by the "Wizard of Oz" fantasy, this outfit will scare away more than crows this Halloween. Having stuffed your favorite shirt sleeves with the real straw, you would receive a costume competing for the highest possible creep factor.
Tip: If you find an equally repulsive dress to your Dorothy, some intimacy is guaranteed.
Gomez and Morticia Addams Costumes
The Addams family first appeared on black-and-white TV screens. Although the latter has become much more rainbowish ever since their favorite color remains unchanged. Hence, you just can't beat the classics, so paint it black.
Tip: If your wardrobe is a great fan of black cloth, the odds are in your favor.
Zombie Bride and Groom Costumes
Walking dead or pretending alive and able to walk does not eliminate the necessity of performing naturally and engaging. This means wearing white mesh contact lenses and having a bucket of warm blood.
Tip: Don't forget to stock up on the bloodiest ketchup you can find in the local grocery.
How To Meet Your Witch on Halloween
Slavic witches will haunt you, a lost traveler, while you are watching them dancing on the sabbath on Halloween night. The shimmering glow of their beauty will lure you right into the world of love. So hurry, join and go to our hauntingly-good chat in one click to find your goddess during the festive season!