Dating an athlete is not easy, because, besides you, she also loves sports very much. Unfortunately, the gym takes a lot of her attention, and without it, she does not feel complete. Take note of some of the following points if you have already decided to connect your life with a fitness woman.
The gym is her world
What is dating a fit girl like? For sexy fitness women, everything around is fitness equipment. She will quickly run upstairs or periodically do energetic squats in the elevator. Keep in mind, she can find a place for her workouts in almost everything she does, and at any time of the day. Hot fitness women love working out and only their creativity is their limit.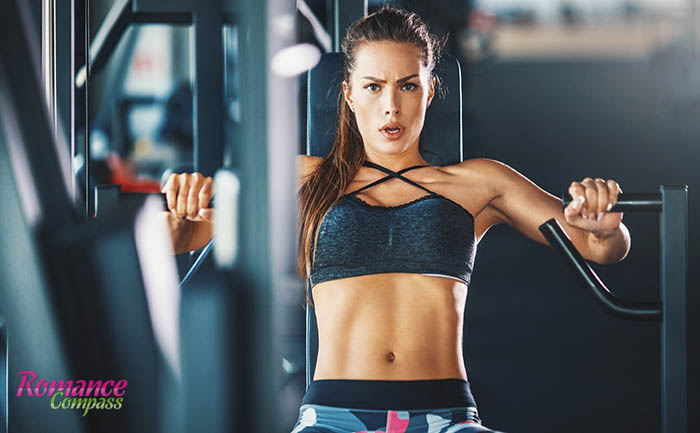 She loves challenges
For her, there is not too much distance and there are no barriers that cannot be overcome. Set a task, and the sportswoman will quickly solve it! She just loves all sorts of challenges and will never give up the opportunity to solve them. Regardless of whether she finishes a mountain of tasks in the office or runs a short marathon every day, she will always have a positive mood and not a bit of fatigue. Whatever thing motivates her to follow this lifestyle, whether her body image issues, a constant desire to become better, or being involved in some sport, she will always go the distance.
She trusts her training partners
The people with whom your fitness woman is training, and even her instructor, are her second family, and this family is aware of all her romantic revelations, dreams, and goals. Be sure to establish a good relationship with them. If you are not friends with that family, if you don't like her lifestyle – you will never win.
She is not afraid to sweat
Dating a fitness model is hard, but we bet you didn't expect to hear this one. Unlike other women, she is not afraid to sweat a lot. For her, sweat is an indicator of the effectiveness of a workout. It does not bother her at all and does not cause any discomfort. Of course, this does not mean that she neglects the shower, on the contrary.
She is hard on the outside, but soft on the inside She may look like a tough nut to crack, but inside she is still a woman. No training can harden her heart. She also needs empathy and support from her man. Remember that she is a woman and has her own feelings, no weaker than that of other women.
Before we figure out the best way to meet women that are into fitness, let's find out whether or not they like fit guys.
Do girls like fit guys?
Biologists from Australia found that the attractiveness of a man in the eyes of women is directly dependent on their strength. The results of the study were published in the Royal Society Journal Proceedings B.
160 women who were not in a relationship with men took part in a scientific experiment. They were shown photographs of male bodies (without faces) and asked to rate their attractiveness.
It turned out that most muscular and strongest looking bodies were unanimously recognized as the most attractive ones. An additional factor determining attractiveness was a man's height. It is noted that overweight participants in the experiment were considered ugly, but if the man in the photo looked strong, he was also considered attractive. According to researchers, no woman found a weak or feminine body attractive.
It is noted that these results of the study refute the popular theory according to which there is a certain threshold of physical development, after which the male body is no longer attractive to women.
How to attract a fitness woman
First off, there are quite a lot of fitness dating sites to choose from, so you won't get lost in your search for the hottest fitness women around. But being able to find fitness singles dating services is not enough, you have to remember some of the following nuances of relationships with fitness singles.
Be polite
Here's the first thing you should know about fit people dating. Girls love when guys are nice, whether they are fitness model women or just regular girls. You won't believe how often girls were turned off by unpleasant types of men. Be mindful of her, her friends, and elders. Do not suck up to her, but if she needs help, provide her with that help! Make sure that the girl sees when you are doing a good deed, but do not behave differently when she is not around and you are not trying to attract her attention. You will look as if you are trying too hard.
Watch your hygiene
This is very much an essential thing about dating fit women. Girls love it when a guy smells good. Do not go too far with deodorants and do not smell like you are trying too hard. Girls love tropical scents or reminders of a special occasion or place (for example, I like the smell of the ocean).
Look sharp
Do not wear a tuxedo to go to McDonald's, but do not wear the same shirt for a week. If you have many types of pants, wear shorts one day and jeans the next. You can choose shirts by matching them to aromas. This, of course, is especially important when it comes to your physique. If you are dating a fitness woman, then you have to look at least decent, otherwise, there will be quite a noticeable difference between your lifestyles and the way you look. Even if you are not going to work out every day and try to match her, you still have to be in good shape by her side.
Keep your hair in order
Many girls today do not like shaved guys. Some girls love long and curly hair; others are long and straight. Hair is very important to your success, no greasiness, no messiness, but don't come off as if you are trying too hard with all the gel and theatrics.
Dating a fitness woman: tips and advice
She will wake you up early in the morning
A sports girl always follows the regimen, so do not be surprised if she wakes you up early in the morning for a run. Awakening at 5 am is her lifestyle. Therefore, forget about lying on the couch around noon.
She loves massage, but not erotic ones
She will always suffer from some form of exhaustion, she may be full of energy, but her workout regimen will have some toll on her body. Give her a massage, but not an erotic one. Forget about it! In the end, she spent all her energy on training for the day…
Forget about sexy lingerie!
Your girl's favorite underwear will always be a comfortable sports bra. It's just that it is very comfortable and practical for her active lifestyle. Therefore, if you need to solve something with a very personal gift - choose sports underwear, and you will never be mistaken in your purchase.
She really knows sports
Some women pretend to love sports in order to impress their lovers. A fitness woman does not pretend, she actually loves it and is well versed in it. You can easily invite her to a football match and expect her to enjoy it quite a bit. Believe me, she will know a thing or two about it.
Final thoughts
Dating fitness women can be quite challenging, especially if your lifestyles differ from each other. If you prefer laying on the couch and watching sports instead of doing sports, then it is unlikely that your union will be a long-lasting one. But this doesn't mean that there aren't any upsides to such a relationship, she will be a loyal, honest partner that will motivate you to become better.