The attitude to this kind of sex can be very different and depend on a person. Usually, almost all men and a certain number of women dream about this. Many couples have a moment when there comes routine in sex life and they want new thrills and emotions. In addition, almost everyone has their own sexual fantasies, which they would like to implement.
However, it is a personal matter of everyone how to treat a threesome and whether to implement this idea in life. But if you understand that you may face such a phenomenon due to various reasons, then you should prepare for it.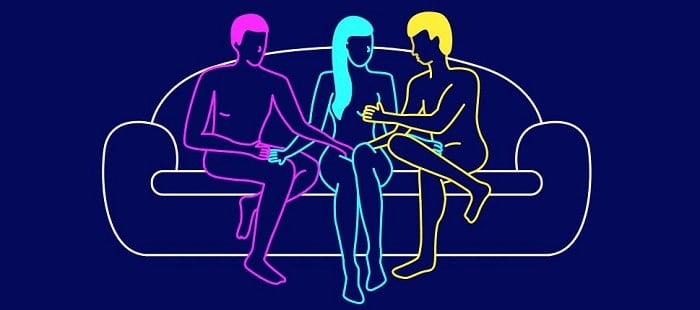 What is a threesome and what to do in it
What is a threesome? Theoretically, of course, we can imagine this, but what is the essence of this activity and what is it for? Recently, more and more newspapers and the Internet contain ads like "a married couple is looking for a man or a woman for regular meetings" or "looking for a couple of m + w for sex". Why do people seek the third person? The answer is simple – they want diversity. Contrary to popular belief, a threesome is a fantasy not only for men but also for many women. Of course, it is better to do it being absolutely free. The perfect option is to find two more like-minded people and start this sexual chaos. But if you are already in a relationship, you may face a number of difficulties. As a rule, it is difficult for one of the partners to accept this. Jealousy, complexes, shyness, embarrassment or fear, common problems – this is a list of reasons why many people don't even try to offer it to their partners.
What to do in a threesome
Why do you need to try a threesome? Passion fades with time, and this is a proven fact. If you are together for more than three years, then you already understand what we are talking about. A threesome is one of the ways to diversify it. So, what happens in a threesome and how to do everything right?
The first experience of a threesome is a test for any relationship. When you do it for the first time, you have to treat each other especially carefully. Make it clear that you are here for each other and your relationship is the highest value for you.
The desire for a threesome is not a sign of perversion. Cases of threesomes have been known since ancient times. And today a threesome is a way of diversifying sexual life and embodying the most daring erotic fantasies.
The initiative must come from both partners. Persuading a wife to have a threesome, a man wants to receive a satisfactory answer. But he should know that the situation can change at any time if the expectations of a spouse will not be satisfied with what is happening.
It is necessary to think carefully about the role of the third partner. Trying a threesome, it is undesirable to invite someone from a close circle as this may negatively affect the further relations because of the feeling of awkwardness or jealousy.
It is advisable to discuss all the details. What to do during a threesome? Before a threesome, you should discuss what is allowed. Having discussed everything in advance, the likelihood of grievances, conflicts, and other unforeseen situations in the process is minimized.
Say how you love each other. Relax, calm, inspire – well, you know better what to say to your soul mate. And if discomfort disappears, then continue. If not, then it is better to finish it for today. You will still have a chance to try.
Main tips on how to give it the best shot
1. If you have already pondered over everything and decided to invite a girl for a threesome, be sure to use the following tips so that the one who was once a "nice addition" to your sex does not turn into a serious rival:
The girl should not stay overnight at your place, so it's better to discuss this condition in advance. No excuses like "it's getting late" or "I'd rather leave you in the morning" are not accepted, the best option is to call her a proven, reliable taxi. You should dismiss the girl as a couple. It is important to make it clear to your man that he can sometimes afford such a "high day", which has a beginning and a logical end, only together with you. In addition, you should kindly explain to the girl that it was only a kind of "attraction", and you have nothing against her personally. Keep the psychological distance!
2. Pay particular attention to contraceptive issues. The risk of catching sexually transmitted diseases during such sexual intercourse increases exponentially. Therefore, it is obligatory to change condoms at every sexual contact, use water-based lubricants, and maintain strict personal hygiene.
Formats
Two men can greatly satisfy a woman. Four hands, two mouths, two male organs... Double penetration – double pleasure. One of the most common fantasies for a woman is she and two machos (or more). A lady feels like a queen, being in the focus of attention of two men at once.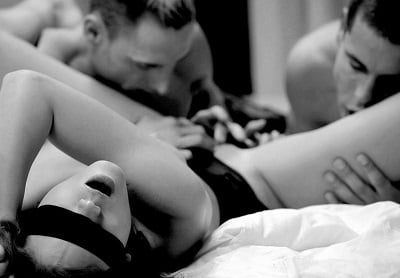 This kind of sex almost doesn't require preparation with certain sophistication of at least one of the participants. Two men will always find something to do with a woman.
Everyone has heard about the multiple orgasms of a woman. The male organism is arranged differently. Men need time to recover from ejaculation, and a threesome is a perfect option for this. While one is busy, the second one is resting and vice versa.
This is very beautiful. Yes, two naked women in one bed are very beautiful. Many men consider lesbian erotica very fascinating. It's not for nothing that this is one of the most popular kinds of the porn industry. Most women like this, too.
The format of FFM allows women to reveal sexuality. According to statistics, more than 70% of women are bisexual or would like to try. Not all of them are ready to admit this even to themselves. The FFM is an excellent and safe way to explore this area of sexuality.
Best sex positions for a threesome
Anyone who is seriously interested in participating in a threesome should be informed about its concept and nuances. There are many nuances in usual sex that make it unforgettable and magnificent or boring and unsuccessful. In a threesome, such nuances are greater and the range of impressions is much wider. It is interesting that threesome sex positions attract the interest of those people who don't even want to get a third partner for intimate amusements. The very idea of simultaneous sexual contact with two partners has an exceptionally exciting effect, rarely leaving anyone indifferent. So, what are the best threesome positions?
Sex positions for threesomes
Oral Triangle
The idea is absolutely simple. How to make so that all three members of a threesome receive oral caresses simultaneously? Of course, it is needed to combine them in a triangle. Each partner in this position both caresses and gets oral caresses. The only drawback of this position is the presence of people who are in a monogamous relationship. I think you understand why. After a certain time, you can change the order in the triangle.
Connecting link
This is one of the most excellent threesome positions for couples who want to invite a third partner to their bed but don't want any penetration. Many don't immediately decide on full-fledged threesomes and start only with oral sex with a new partner. The girl lies on her back and is a kind of link between two men. Her partner penetrates her, and the invited friend or girlfriend gets oral caresses.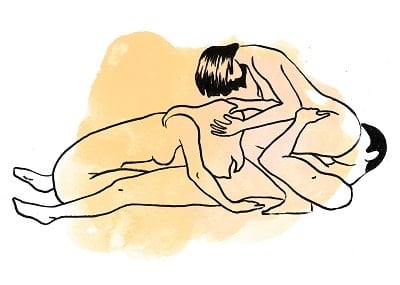 Rider
This position is considered one of the best threesome positions. The man lies on his back and the first girl sits on him in the pose of a rider, with her back to his face. The second girl (not necessarily, maybe a man) caresses her clitoris, while the lying man has sex with the first girl.
Observer
Very often, men like to just watch how two bi girls caress each other. The man can simply look at them or simultaneously stimulate himself. He can join at any time. Agree that this is one of the most exciting FFM threesome positions (female female male).
Two stallions
And the last position is especially for girls. This is one of the best MMF threesome positions (male male female). Very often, men find a girl who is ready for such a sex experiment and "divide" her between themselves. Men stand from different sides (since heterosexual men, as a rule, stay at a distance from each other) and penetrate her.
Wife wants to try a threesome: what to do
Every fifth woman secretly fantasizes about sex with two men at once. But for the majority, such erotic fantasies remain only in the subconscious, periodically causing incomparable excitement. If your wife wants to try a threesome, let her get it. So, how to make her fantasy come true?
Two men + one woman
Women are always pleased with everyone's attention, especially from the opposite sex. It is always pleasant to be surrounded by men who compliment and admire them. Imagine that you are in the company of two women and both of them are pretty. Well, don't you want to be in bed with them? You get two handsome women at once! They are both completely focused on you. All their attention is focused on your body. Women want to feel the same sensations. But there are specific moments. For example, trying a threesome, one of the men is you. Then it will not be easy for you to admit such a thing. Almost all men are jealous by nature. A more real variant of a threesome is sex with friends who are heterosexual. In this case, an unforgettable experience for a lady is guaranteed. A woman can relax because there is a complete absence of motives of jealousy. So, try to cope with oneself and allow her to invite a man. When a wife tries a threesome, she will become more self-confident and liberated.
Two women + one man
Your woman offers you to have sex with you and your girlfriend (or her girlfriend). It is believed that the dream of every representative of the stronger sex is to be in bed with two women at once. This is because men are more inclined to a polygamous relationship than girls. Maybe your woman just wants to bring you pleasure in this way. But you have to adequately assess your capabilities before agree to this.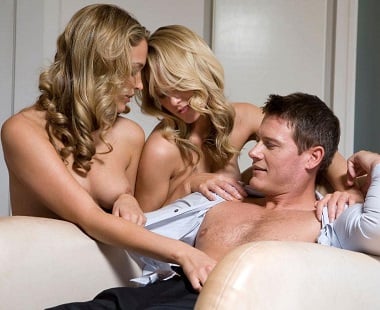 The best scenario for such a situation is a creation of relaxed atmosphere. You can drink some alcohol, but it is necessary to have a sense of proportion in order not to ruin the upcoming experiments in bed. When a couple tries a threesome, a man shouldn't forget about the technical side. After all, he will have to pay attention immediately to two representatives of the weaker sex. He should try to ensure that each of them is satisfied with what is happening.
By the way, vain expectations may interfere the process. Don't imagine unreal pictures, trying to get pleasure from what is really happening. Controlling the process of preliminary caresses, it is important for men to catch the moment when partners are fully ready for more decisive actions, that is, for sex itself. Also, it should be remembered that the beginning of sex is a turning point in the game of threesome. After all, when a man makes love to one of the ladies, the other one will be ignored for a while. Therefore, you should think about everything in such a way that both partners will be involved in the process. A proven way to do this is to kiss and caress the first woman during a sexual act with the second one. This allows you to get the brightest sensations of orgasm.
So, the main thing is that these sexual experiments remain behind the doors of your bedroom and don't go anywhere further. It is important that you and your loved one trust each other. The point is that a third partner should be clearly aware (as well as you and your woman) that you have your own life and you have enough of each other's feelings, and, therefore, this third person is certainly superfluous in your relationship. When you have a threesome, don't transfer it to everyday life.
Should I try a threesome? Yes! The experience of a threesome is unforgettable. But are you ready to share your woman with someone else? However, if both of you are focused solely on getting pleasure, let such sexual intercourse be an exception to all rules for the sake of the embodiment of cherished fantasies.