How to Date a Hot Police Woman
Yep, we've often heard about women being into hot cops, but the buzz about men being into hot police women is almost non-existent. And actually, you can see where it's coming from. While the equality between sexes continues to grow, there are still certain professions that are considered to be either male or female, even though people of both sexes have been working in those fields for decades. Unfortunately, being a police officer is considered to be a male job by the vast majority. And those who realize that a police woman is not a myth, believe in a lot of stereotypes.
Even if you do not belong to those who believe that being a police officer is to be a male profession and free of stereotypes about police women, the belief spread around still takes its toll. While most of the couples wonder how long to date before being official, you wonder how not to be frustrated by being in a relationship with a female police officer. Yes, being a police officer is not just a job but a lifestyle. And that means that the intimate life of law enforces is also affected by their profession. But, in the end, dating a police officer is not as difficult as figuring out how to get over having trust issues. You just need to learn a thing or two about hot women police officers to succeed in dating one.
Why Police Women Are the Hottest?
When you think about police women, probably you think that they have short hair and rude voice. Well, that's one of the stereotypes. Believe it or not, but there are a lot of sexy women police officers. Actually, if you google something like "sexy police women" or "hottest police women," you will find a lot of articles about hot female officers in different states and European countries as well. Yes, female police officers are not necessarily manly, not necessarily speak in a low voice, and they don't always have a short hair cut. It is much easier to find sexy police woman than that one stereotypical police girl from some 1970s TV-show. But here we get another stereotype that a police woman is some sexy chick that comes straight from some porn-spoof of a popular 1990s-2000s TV-show. Friends are asking you, "Oh, you are dating a police officer? Does she hand-cuff you at night?" Well, that's a product of our fetish, we think that women involved in something manly are sexy. One thing you need to remember, police women are different, just like women of other professions. And if you are dating one, you should treat her just like your girlfriend of any other profession, but with regards to her work's peculiarities.
Where to Meet Police Women
Well, love comes uninvited, so sometimes you just meet a girl who happens to be a police officer. But if you're into hot women police officers, there are different ways on how you can meet them. You won't have any problems finding a police woman to date if you are a cop yourself. But you are going to face a lot of challenges in this case. Women make around only 10% of police officers, which means that they are a hot target, and you have a lot of other male officers who may be interested in them.
In case if you are not a cop, there is still a possibility to find a hot police woman. There are a lot of dating sites for police officers looking for dates. There are even sites designed specifically for female officers looking for dates. All you need is to google "date a police woman" or "dating site for police women" and browse through the search results. Then you sign up for one of them and start chatting with your prospective female police officer date-mate.
But you don't have to go to some niche dating services, as certain sites offer matching and searching by the profession, aside from appearance and common interest criteria. So, just browse through the women with the "police officer" occupation criteria, if the dating site you are registered on allows that, and you can find a match. As you can see, everything is pretty simple in this case, isn't it?
Seven Tips on How to Meet and Date a Police Woman
Now, let's get through some alternative options on how to meet a police woman, as well as how to date them.
1. Hang put at Cafes Near Police Stations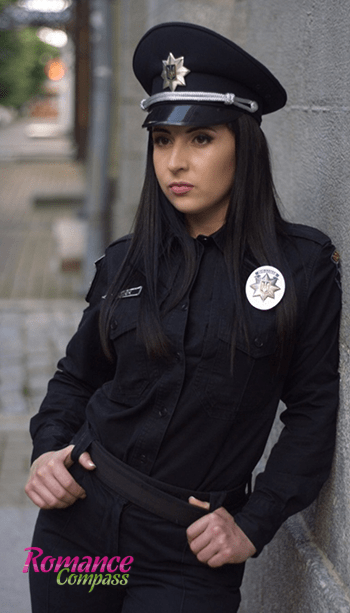 Another alternative way to meet a police woman is to hang out at cafes near your local police station. She may be grabbing a cup of coffee before the shift or something stronger after the shift. There all you have to do is to break the ice and ask her how her day was.
2. Join Your Neighborhood Watch Program
If you find starting a conversation during her free time before or after the shift awkward, you can try joining your neighborhood watch program. It will definitely allow you to chat with her or her fellow officer. Anyway, it will give you the possibility to get a bit closer.
3. Chat with Them to Know Them Better
You need to chat with your prospective police girlfriend before starting a relationship, as you need to get to know her closer. As we've mentioned before, her personality doesn't end with her profession.
4. Be Flirtatious
Once you get to know her better, you can start flirting with her. But mind that you should keep your flirting subtle at first in order not to look desperate to get her like you. You should cheer her up and be positive and happy whenever you get a chance to go on the date with her.
5. Get Ready for the Challenges
Another important thing about dating a police woman is that you need to be ready for the challenges that may occur. Mind that you are about to date a girl who wakes up almost every day at 7 a.m. and who may have night patrolling. She often can come exhausted from her work.
6. Be Interested in Their Work
As we've mentioned before, being a police officer is less about occupation and more about lifestyle. Thus, if you are not really interested in the work of the police officer, you should keep away from dating one. Moreover, knowing something beforehand about policework will help you impress your prospective girlfriend.
7. Offer Support When You Discuss Their Work
You should mind that working as a police officer is hard for anyone, and people can often see people get killed, and sometimes they are the one who pulls the trigger. You need to provide your police officer girlfriend with the support and not turn your back on her by excuses like, "I guess your work is too complicated for me." Your relationship won't work otherwise.
Not That Difficult
After learning everything above-mentioned you won't face any problems with dating a female police officer. Everything you need is to remember to abandon the stereotypes that surround police women and mind that they have a challenging job. If you are ready to cope with that, then don't waste your time and go look for your prospective police officer girlfriend.