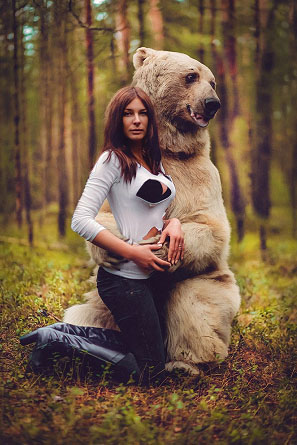 Julianna's profile has attracted our attention at once: mysterious look, sensual smile, reflected in the unusual images of her photos, and a huge number of amazing, even extreme pictures with various animals, that seemed to be seen only on movie screens. It's hard to believe that this
tender girl
can conquer such wild animals. We've immediately decided to contact this lady and ask her to tell us about herself, her profession and hobby and how actually the idea of such extraordinary pictures has started up.
Julianna was really excited to tell us her story, that we would like to share with our customers:
"I've been doing photography for many years, so I can call myself a professional in this field. One of my basic directions in photography is photoshoots with wild animals, such as bears, tigers, leopards, crocodiles, lynxes, etc. Such projects, of course, are quite challenging and dangerous, as animals appear in front of cameras as they are in the real world: I mean they're not given any pills, tablets or sedative injections, when there is a break, we just feed them with meat, and that's all.
So how are these extreme shootings organized? First of all, we need to explain to our models, i.e. the people we take photos of, how to behave during the photoshoots with wild animals, what they can and cannot do. We choose a unique image for every model, a photo studio with a corresponding interior and agree on a time. We aim at individual photo session for every model, but at the same time there should not be any risk for our models, as well as the discomfort for the animals.
We never torture the animals, as some may think. On the contrary, during the photo session we feed and caress them, play with them, they are given as much attention and time for rest as human models, e.g. our bear "works" only two hours a day, the rest of the time is given to walking, eating, sleeping and playing with its loving owners.
Myself, I adore animals! A great variety of different feelings appear in your mind and soul during those moments when a large wild animal begins to trust you… It's absolutely inexplicable! I'm excited about my job. For me, it's not just a profession or a hobby, but my life mode, the way I see and feel this world!"
Let's admit that it's impossible to stay indifferent to this story told by the lady, her photos and passion that she feels to her occupation. Julianna is an interesting person, simple and open for communication and new acquaintances. You can always contact her on our website and she will be really pleased to answer your questions and let you know more about her in live chat or personal correspondence:
https://romancecompass.com/login/