Do you find yourself, binge-watching Flack, & See once too often? Did the relationship slide into the abyss of the boring and routine? Do you want to surprise your girlfriend with a creative memorable evening that titillates your senses? Is emotional charge wearing off exponentially?
Sounds like you are so ready for our list of 10 romantic date night ideas to bring the tingling spice of romance back into your life.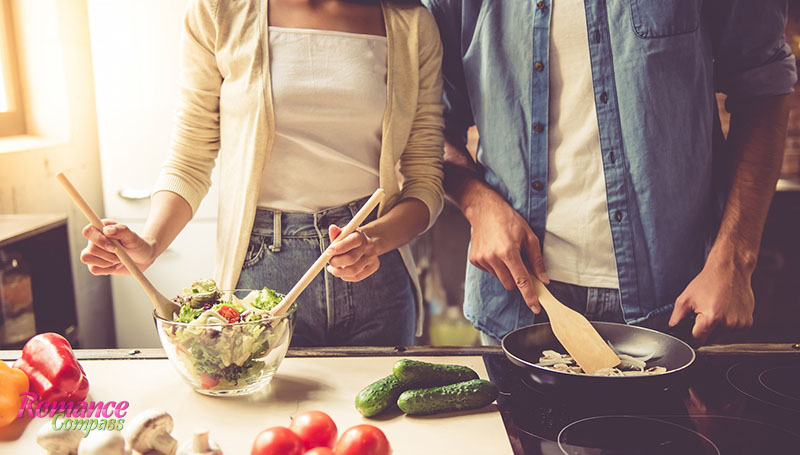 Why Dinner Nights For Two At Home Are So Important At Any Stage Of A Romantic Relationship?
Life is a gift we all take for granted.
We tend to grow stale in our personal lives too.
It takes an effort to keep things exciting, fresh & vibrant.
An amorous night for just the 2 of you keeps emotions heightened and well-toned.
Make use of the below 10 ideas for romantic date night for two to spice up your relationships.
10 Romantic Dinner Date Nights Ideas To Jazz Up Your Personal Life
Enjoy A Classic Candle Lit Dinner
Classics first. This one suggests she doesn't cook though. It's a takeaway or a man cooking. Even when a lady loves cooking, laboring on a dinner may kill off some romance for her.
The ambiance is all in the small details. A petit bouquet of her favorite fresh flowers. The candles scattered all over the place in all shapes and colors. Petals here and there? Why not, go all in. The lounge music from your favorite Spotify compilation. Something that reminds you both of your honeymoon or a first night – a picture of Trevi Fountain where you met when an ocean away from home?
With the onset of digitalization and wide smartphone adoption turning to smartphone addiction, we hardly ever speak to each other.
Leave your phones far away. Make it about the 2 of you.
Deep dive into each other.
Figuratively and not so much.
Have A Themed National Cuisine Dinner
While traveling is fun, with isolation is to be postponed for a while. Not to worry. Immerse yourself into a certain culture within the walls of your home.
Choose the country. Use Random.org to choose the country you want to learn about & immerse into. Or point to a map randomly.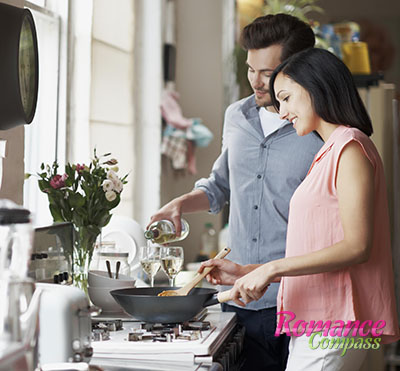 Cook national food. Cook or order a dish from the chosen cuisine. In the best-case scenario, if you cook yourself – watch a westernized recipe of the chosen dish first and then a native one. There is nothing more authentic than national recipes done by the people who grow up eating them. You only watch a western version of the dish to eliminate the language barrier and know the ingredients. So even if the native person's recipe is not in English, you will end up picking up on clues & best practices from the native chef just by watching it.
Watch an educational video. Watch a 10-minute YouTube video on the country. We LOVE the Geography Now channel – it's absolutely addictive, stuffed with fun facts and the narrators are awesomely entertaining. See for yourself.
Watch a national movie. Once you are done with the dinner, proceeding with a movie from your chosen country could add more immersion.
Do a role play based on your experiences from the night. If you just put up an accent, pretend to be movie characters and play out your own finale or do a full-fledged costume revamp. Enjoy.
Recreate A Scene From Your Favorite Movie
Roleplay takes all sorts of shapes. Unleash your imagination. Do you know how hundreds of people gather together to recreate a historical scene or a battle? It's because they are passionate about history and want to break away from the routine.
This date night idea requires some planning though. If done right, your Instagram story will be the one with most likes & comments though. BTW, documenting the prep experience is a great way to turn this night into a fully-fledged event to remember for life. Is it Godfather? Pulp Fiction? Roman Holiday? Breakfast at Tiffany's? I can so see the Instagram story with hashtags: #datenight, #pulpfiction, #danceliketravolta.
Go For A Sophisticated Wine & Cheese Dinner
While most of us prefer a good dozen vodka shots with their dinner (just kidding)… Well, wine may seem a bit banal on its own, many couples will kill a bottle every other night in between two of them (little pleasures of adult life). Wine & cheese as a concept is still amazing instead of dinner.
First, it's an easy romantic dinner. You can throw together an amazing looking cheese board within minutes. Chunk some camembert, Boursin, cheddar, dorblu, grapes, grissini or baguette slices, walnuts, dried fruits, & some Jamon – boom! - your dinner is served. You Instagram is waiting for the oh-so-hedonistic story.
Surprisingly, even though they look like small pieces of food, cheese plate dinner is actually very nourishing because it's all protein & fat-rich. You will have had enough in no time at all.
Want to bring about an educational or competitive edge? Organize a blind tasting: have your friend buy and wrap 2-3 random bottles for you, so you don't see which is which. Print out a piece of paper each with simple questions and try guessing the country of origin (or at least New World vs Old World), grape variety, winemaker, or even vintage.
Apart from contributing a sophisticated touch to your amorous night together, blind tasting is very sensual. Want to take up a notch further by introducing ultimately seductive notes? Have her blindfolded for the blind tasting session. Mmmm, you may never get round to your notes, then, I guess...
Indulge In Roleplay
That's a bottomless date night idea for two. If you have a role play every night of your life, you will not have exhausted 1/10th of the possible versions. It's a scientific fact. Just kidding, but only because if some scientist did take to a mission of compiling a full list of possible role-plays, it could only be more, not less.
It only takes some imagination really for a simpler version. You can put an accent or add some unusual tones to your voice and play out your role. If you really want to create a memorable experience, it'd be nice to take care of some attire and maybe even props for your chosen roles.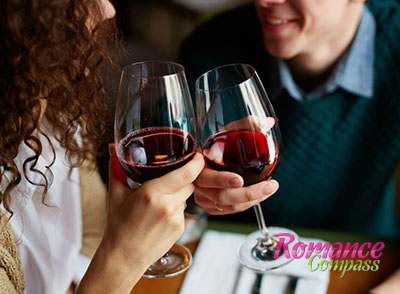 Oh, should you want to bring up the best of the acting techniques in your partner, why not draw your roles randomly from a hat or via random.org. BTW, compiling a list of possible roles for your play a day before would totally make the wait & the evening itself so much more intense.
Great Romantic Bake Off? Yes, please!
Well well well. The kitchen is the place that's spicy and hot as is. Imagine bringing in a bit of competition to the table.
How about arranging a replica of a Great British Bake Off TV show? Try to win the title of the best chef in the kitchen doing the same dish.
How about the nourishing piquant guacamole? Or a seared salmon with asparagus & hollandaise sauce? Or a salad niçoise?
Wanna get your Instagram followers engaged? Let them decide whose presentation is better! Unless one of you is not too good at losing of course and gets overly competitive.
On the other hand, you may get the losing person to get some perks in the post-dinner desserty part of your romantic evening for two (* wink wink).
Game Dinner Night For Two
Card games, chess, puzzle – whatever it is you both like in terms of gambling experience. Chess can be especially fun if you add a bit of a fun twist to the rules of the game.
Say, every time a person loses a piece, he or she gets to drink a shot of alcohol. OK, if this is too fast and furious for you, then you wait to lose an entire game to drink alcohol. As another twist in a scenario, you may also get a losing person to answer previously prepared naughty questions when losing a piece.
Questions may go as dirty as your imagination and relationship allow them to, turning this game of chess into the dirtiest pastime ever. Just to get your brain going, you may print out something like:
What's your most sensitive spot on the body?
What's your favorite aphrodisiac?
What is your top sexual fantasy about?
What sex toy would you like to get as Valentine's day present?
What role play would you want us to take on another night?
What room do you like having sex most?
Would you fancy to have sex on a plane in the lavatory when everybody falls asleep?
Not only will all those answers make you both ready for a dessert after this romantic dinner at home, but you will also have a chance to find out more about your partner.
Have A Highly Sensual Blindfolded Romantic Night
This one is all about elevating your senses. While seeing is all great, being blindfolded for a dinner intensifies all other senses tenfold. You can blindfold her only or put the folds on both of you. Make sure you have all the food and wine within reach, chillout music on, and any candles out of reach, so you don't knock them over occasionally.
Needless to say, such an activity is purely hedonistic and requires full immersion into the sensual part of it. So agree not to touch your phones, or better even, leave them in the corridor or mute them.
Once the food part is done with, you can play with a bit of physical facet of it by making her guess what it is you are touching her with. It's good to have prepared a feather, a string of pearls, rose petals, an ice cube, maybe a silk scarf, you get the idea. Beware, gentlemen, those goosebumps on her skin are too contagious though.
Isolation Edition Family Skype Dinner
We all missed families too much. Agree with your family to have dinner together. Have the same menu and wines for the more shared experience.
Have a Cahoots game organized by one of the family, so all of you can join and monitor whose team is winning.
Alternatively, you can all have a book club session with your family over skype or indulge in the rounds of questions – one by one. For example, each of the joining family members will be taking turns sharing their life experiences about different episodes of the lives:
How did your first date night go?
Who was your most hated teacher and why?
How did you learn to drive a car?
How was your graduation party?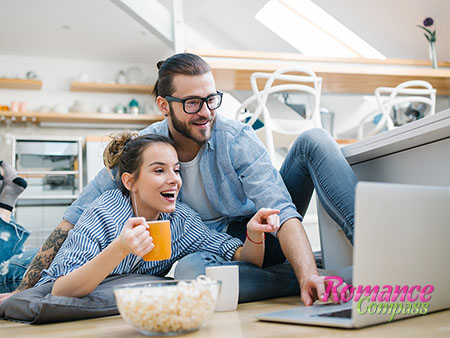 Not only is it a great way to reconnect with your much-beloved family, but it's also a fantastic way to learn even more about them.
Sensual Dinner + Date Night: Test The Power Of Aphrodisiac
One of the most obvious but least practiced date night dinner ideas: aphrodisiac-rich romantic homemade dinner. Easy to throw together, just like the wine & cheese feast.
Some oysters & Champagne to start, followed with a dish of Jamon-wrapped asparagus, pine nuts & fig? Some strawberries and whipped cream for dessert? Sounds like a plan. Why not combine this sense-arousing feast with some romantic movie?
Pro tip: however you might be tempted to interrupt the dinner way before the dessert or maybe even before the main dish, try and savor the feeling of growing desire inside without satiating it for longer. Not only will it elevate the profile of after-dinner activities, but the feeling of postponing the pleasures itself is an exciting tingling tease of a sensation.
Invite Romance Into Your Life With Romance Compass
If all those romantic date ideas are theory only for you and you have no one to practice them with, consider checking out a trustworthy dating website full of Slavic beauties happy to share those experiences with you: RomanceCompass. An extensive collection of girls from Ukraine, Russia, Bielorussia, who are willing to meet a man to fill their lives with meaning and adventure. Message, video chat or visit your chosen lady on your terms. Which Slavic Girl would you share your romantic date night with?