Differences in the characters of the partners of this tandem seem to be insurmountable obstacles that will not allow you to build a strong and lasting union. The secretiveness of the Moon and the sociability of Venus can create problems as the couple develops, but it will still be possible to overcome them. To do this, it is worth devoting a little more time to this union and allowing it to grow stronger. A person belonging to the element of Water prefers to spend time alone or, at best, with his soulmate. In this way, they create a strong emotional tandem, which is a determining factor for success. However, the lack of proximity negatively affects the representation of the element of Water, so do not rush things.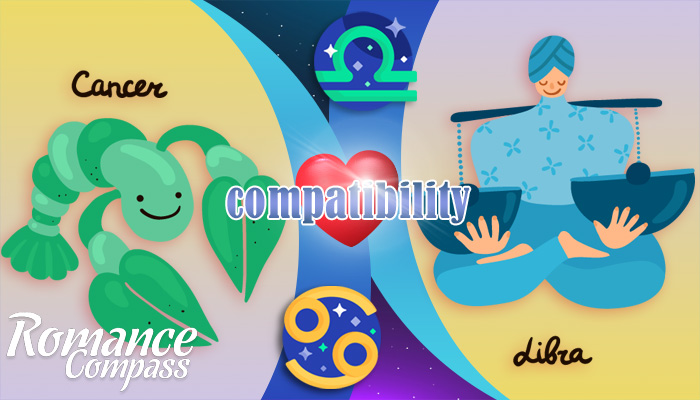 The personality of Air, in turn, is exciting when it is in the center of attention. Some credulity allows her to quickly adapt to a new union and accept courtship. However, gullibility does not always bring joy; the moment of parting often comes as soon as their emotions take over. The same differences in characters and behavior make up an ideal couple. Tandem will allow partners to feel safe. They will always be in a good mood. Square personalities in astrology easily share their essential qualities.
Cancer and Libra sexual compatibility in bed
Avoiding problems in bed will not work, but overcoming difficulties will provide an opportunity to move to the next level. The sexual tandem of these two people allows them to gain new valuable experience and establish the necessary emotional union. This approach will benefit the newly-made couple. There may be some tension in this tandem, but they will not create difficulties. This situation is a common result of squaring signs. It will take some time to get used to each other, and the development of efforts will affect the level of satisfaction.
The creativity and passion of one should not discourage a discreet partner. On the contrary, they can enjoy intimacy when a deep connection is established and honed over time. Since Airs love to please their partner, Waters will be able to see their significance in their partner's life. To maintain sexual compatibility, try to motivate your loved one and allow your soulmate to demonstrate their capabilities. Then, thanks to the freedom of action, each of you will get what you want, and your sexual feelings will become much brighter.
Cancer and Libra friendship compatibility
In this regard, the couple will not be tense or problematic, because both consider friends to be part of their family. They know how to find a common language and can lend a helping hand if necessary. However, neither will tire the other unnecessarily. The feeling of falling in love will not overshadow the friendly feelings of the couple. They are equally loyal as friends and romantic partners. This similarity of characters brings them closer. The creation of a deep company will be the reason for respecting the boundaries in the union. These two people complement each other perfectly, so their friendship will be long and strong. In favor of establishing contact between partners is the possibility of creating a comfortable and safe environment in a union. Love and care, combined with loyalty, will bring pleasant surprises if these two become friends.
Cancer and Libra compatibility percentage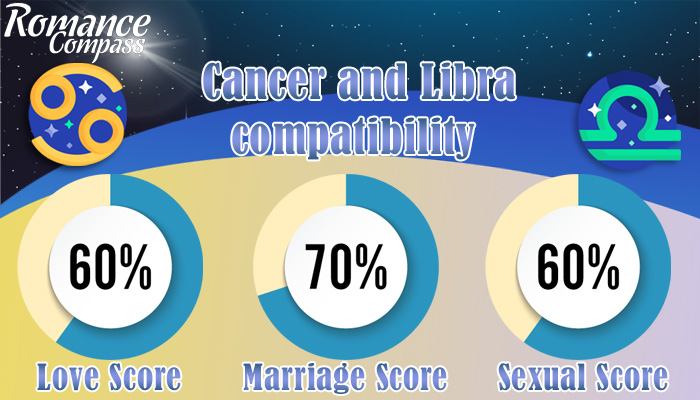 Are Cancer and Libra an excellent match to be soulmates?
Communication between these two people allows you to better understand the characteristics of the partner and find common themes for continuing the union. During the discussion, partners can establish a strong tandem and show how attractive they can be after the union is ready. Emotionality is not always good for a union. Personalities of the element of Water are rather quick-tempered (compared to representatives of the element of Air), therefore they tend to hush up problems and leave their solution for later. Unfortunately, this is only sometimes perceived correctly, so conflicts are inevitable.
Decisiveness and the search for options for establishing trust favor the choice of Air as a partner. Since he is more optimistic and ready to overcome difficulties, their tandem with his lover will be a happy ticket to a common future. It would be helpful if you were patient in order to maintain harmony in the union. Conflict can be avoided only if there is respect for other people's weaknesses. Active Air needs to be prepared for the fact that the partner is often slow and not inclined to think when his feelings take precedence over reason. Changing the attitude towards shortcomings allows you to confidently move forward and charge each other with confidence and optimism. As a rule, the tandem between these two is stable and predictable.
Cancer and Libra emotional compatibility
The couple differ in the level of emotionality, because the former are more sensitive and vulnerable. When conflict situations arise, it is much easier for a Moon-ruled sign to shut down or become passive aggressive. This behavior offends the partner, so the second half should be more careful in using these techniques in a tandem.
Mood swings can also be a problem. The water partner does not know how to hide emotions, so the second one quickly learns about the changes. Since it is easy to come to a balance, the partner of the representative of the water element may flare up due to the unpredictability of reactions. To maintain balance, the first needs to be patient and try to emotionally relax the second. However, the union will continue if the connection is deeper, until the partners reach the desired point.
What is the result?
The interaction of a couple will be more successful when the latter learn to show their confidence and strength. However, the optimism of a partner under Venus is contagious, so even a stable representative of the elements of Water cannot resist his assertiveness.