Harmony and excellent understanding are the foundation of a strong union. Our heroes have a high chance of success because they have almost no reason to quarrel. Belonging to the same element and good interaction of the patron planets – Jupiter and Neptune, contribute to that.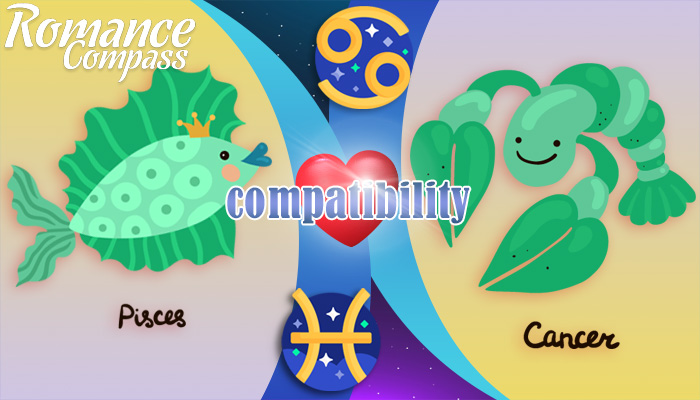 These lucky people have good prospects. Pisces can play the role of a caring protector and learn to take responsibility for themselves and their partner. Their chosen one, who is more defenseless and distrustful, gets the necessary support and affection. The first sign that will benefit from such a division of roles is having a stimulus for personal growth.
Pisces will always dominate, and it is on their shoulders that the burden of decision-making will rest. It is because they have the necessary experience, wisdom, and a high spiritual level. Therefore, it will be the meaning of everything for their partner and a worthy example. Such a bond will be full of care, attention, and tenderness. Partners of these signs are always faithful, regardless of whether they are friends, colleagues, or spouses. When they are alone, they can behave naturally without masks.
Sexual compatibility of romantic Pisces and sensual Cancer in the bed
Intimacy is at a high level here. Excellent understanding from the domestic level also spills over into such a delicate sphere. Partners are romantics, personalities of vivid emotions. They love erotic caresses and unconventional foreplay for mutual pleasure. Having a creative mind, each of them can offer a lot of different exciting scenarios.
Our heroes deeply feel their mate, so they know precisely about all sexual preferences. On a subconscious level, they strive to deliver the maximum pleasure, guessing and fulfilling the most secret and daring desires. The most suitable version of love for them is a beautiful setting in a cozy nest with dim lights and relaxing music. Both possess the passion to the highest degree and guarantee a diverse intimate connection.
Friendship compatibility for Pisces and Cancer
Harmony is also present in friendly relations. These two accept the chosen ones as they are, treat them with respect, and forgive misconduct. The ability to feel profound gives them the strength to help at any time of the day or night. There is a solid astrological connection. In addition, there is a similar outlook and temperament. Often, even love appears just after friendship. And if they are relatives, their friendship alliance will be powerful and long-lasting.
When Cancer and Pisces friends are colleagues, creative, intellectual work dedicated to other people will be the most fruitful. Being altruistic by nature, they are also suitable for the service industry. Providing help to others is their natural inclination.
In business activities, Pisces is looking for moral satisfaction. Their partner is more material. However, both are alien to career ambitions. Therefore, competition between them arises very rarely or does not arise at all. Once they become friends, they will keep it for life. So these lucky guys will always find something to discuss and do together.
Pisces and Cancer compatibility percentage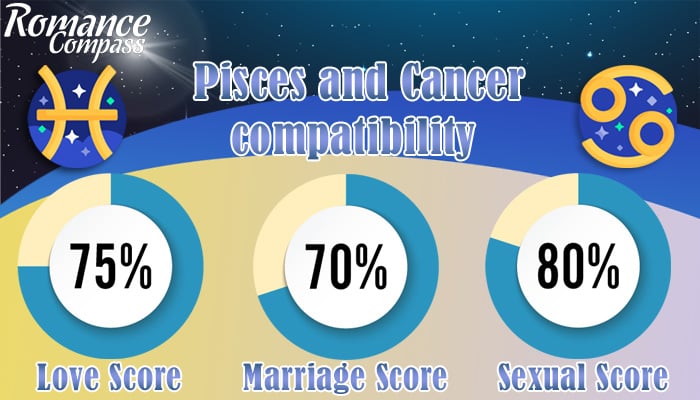 Are the pair of Pisces and Cancer an excellent match to be soulmates?
These representatives of the same element intuitively distinguish each other even in a crowd and change their inner direction. When building a relationship, they are not in a hurry; they act slowly. Rushing headlong into a love passion or making quick love affairs are not typical for them. They are too picky. However, those interested in someone see in a partner a potential husband or wife, a soul mate.
From acquaintance to the first kiss can take a long time, but the reward for the wait will be a secure bond. Two loving romantics can create a unique atmosphere around themselves, in which no one is allowed, carefully guarding it against the eyes of others. Seeing such reverent treatment, many envy them. Family and traditions are their primary values. Everyone dreams of a happy marriage, children, and old age together. They can create a strong family where they do everything together, whether raising their offspring or choosing a bathroom curtain.
Although Cancer can be stubborn sometimes, their mate will help smooth out misunderstandings. Spouses have an irresistible desire to be together. Even if disputes arise, they will always find a compromise solution. Separation for such a couple is harsh and undesirable. So they try to spend all their free time together. This tandem should change the environment, be in different places, and travel; if they want to avoid getting stuck in the monotony of life. They love parties, movies, museums, theaters, and resorts.
Pisces and Cancer's close relationship: potential problems
Even such a seemingly perfect union can run into misunderstandings. The couple is great at dealing with trouble, but Cancer, because of its character, is the first to fail to withstand the strain. It is capable of pissing off even their softhearted chosen ones. Those very closely take to heart the experiences of the beloved and can plunge into depression. In search of options for escaping problems, they risk succumbing to all kinds of addictions.
If both signs limit themselves to domestic and family matters, they are in danger of stagnation. New emotions and impressions will help keep the passion in tone. A change of scenery is fundamental. Marital infidelity is also possible, most often by a spoiled Cancer. Not getting at some point what he wanted and holding a grudge, he may neglect family values because of the long absence of the other half. Pisces, in turn, finding out about what happened, will not keep silent. The union will not be the same if it does not come to a rupture.
Emotional compatibility of Pisces and Cancer
Such a couple can retain emotional attachment for a very long time. However, this is only possible in the case of constant self-improvement. Therefore, this duo should not lead a closed lifestyle. It will not happen since Cancer likes to maintain excellent relationships with all relatives.
In this case, it is essential to be able to forgive. Although rare, mutual insults are possible, which can be detrimental. Pisces is prone to present claims and harbor grievances, and their chosen one demonstrates dictatorial habits. Our heroes need to be attentive if they want to protect their love. At the same time, they must discover new sides and facets of their chosen personality. They should always look for common interests.