When choosing a life partner, each man, regardless of country and nation, already knows whom he wants to see by his side. From the way men see it, a future wife should, first of all, be a best friend, a soul mate, and, of course, she has to become a devoted and caring mother for his kids. It happened that perfect candidates for the role of wife and mother, who meet all the demands and requirements, are Russian ladies.
There are a lot of explanations for this, the main of which lies in the maternal instinct of Slavic brides. These women are always ready to sacrifice their career and energy to ensure that their children had everything they need. Why does bringing up kids mean so much for Russian girls? What makes them devote their lives to it? We put up the list of ten possible reasons that make women from Russia best mothers ever.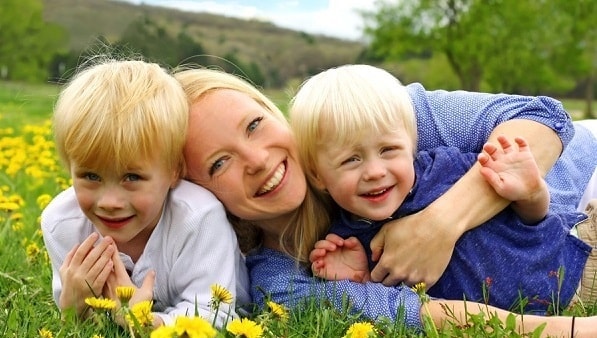 1) They are always ready to become mothers
Russian girls begin thinking about children and starting a family when they turn 20. While Western women of such age consider themselves too young for settling down, their Slavic counterparts are mature enough to raise kids and pay them as much attention as they need. That's why in American and European families, parents turn to help of experts, shifting their responsibilities for bringing up kids to tutors and nannies. On the other hand, a Russian mother would never trust other people with raising her children.
2) Russian mothers give all their love to kids
A Russian woman loves no one as much as she loves her children. When a kid makes its first step or says its first word, its mom will be there to see and hear it. Russian moms will do anything to ensure that their little ones were surrounded by love. By the way, it's one of the reasons why Slavic girls look for husbands abroad. Sure, raising a kid is a responsible task, but mothers in Russia can deal with it way better than ladies from other countries.
3) Russian moms teach their kids to respect family ties
Slavic countries are known for their traditional views on family ties. In Russia, the connection between children, their parents, and grandparents remains strong no matter how far from each other they live. That's why if you marry a Russian woman, be sure that she'll teach your kids to respect your parents despite different cultures and personalities.
4) Their families are ready to lend a helping hand
You know, sometimes couples' parents want children even more than couples themselves. In Russia, such thing is considered normal. So your Russian wife's parents will be glad to have grandchildren. And that's why you can always count on their support (of course if they live somewhere close to you). They can take over some of your house chores if needed, or even become babysitters for a day or two in case if you and your Russian wife need some time to rest from the family life.
5) Russian mothers are good at upbringing
Russian women believe that teaching kids good manners and educating them are two main priorities in upbringing. So as soon as their children become old enough to learn, they begin inculcating such values, as love for hard work and eagerness to study into them, making them full-fledged persons. Besides, there's a great modern tradition in Slavic countries, according to which, parents help their kids choose a hobby, like playing musical instruments, dancing, but mostly sports. That's why there are so many bright artists, designers, composers, and musicians among young people in Russia nowadays. And Russian mothers have a lot to thank for.
So if you want your kids to become all-rounders with the right set of values, who know what to expect from this life, you should marry a Russian girl.
6) Russian women have family-oriented mindsets
For women from Russia, the role of mother and wife means a lot more than for ladies from Western countries, where family values are somewhat different. European and American girls put their careers and personal life above all, while for Russian ones, marriage and kids are the main priorities. Of course, such a great difference between mindsets comes directly from cultural aspects of Slavic women. As mentioned above, traditional families in Russia are bound by a strong connection. Even when their kids become adults, Russian parents never stop taking care of them. The youngsters, in their turn, show respect for older members of their family and look after parents and sometimes even grandparents, often living with them.
7) A Russian mother brings traditional values to a family
Being raised in the atmosphere of mutual respect and love, most Russian women for marriage want to establish the same system of values when creating their own families. According to Russian traditional views, a wife is responsible for keeping a house clean and bringing up kids, while the role of a breadwinner and provider for a family is up to a husband. Following these values, a lot of girls in modern Russia choose family life instead of achieving some personal goals, especially if we're talking about raising kids. The first thing that a woman needs to do is learn how to be a mother, and Slavic ladies understand it better than others. So, if you're looking for a perfect wife and mother for your kids, Russian girls for marriage are exactly what you need.
8) Russian women are loyal
Ladies in Russia know what loyalty means. If a woman from Russia fell in love with someone, it's for good. For her, there's no one else around. A Russian wife will always give you support in an hour of need and find the right words to cheer you up. It's a precious quality, and not all ladies have it. But there's even more to it. When your wife's loyal, you don't have to be afraid of getting a divorce one day, which means that your children won't have to suffer all the hardships of living in a broken family.
9) A Russian mom will do anything to make her kids happy
Apart from giving as much love as they can, Slavic women are ready to provide everything their children may need for a happy life. A Russian mom will spend hours at a kitchen stove, cooking her little one's favorite meal if needed, or get a second job to get enough money for a gaming console her kid always wanted. The strength of Russian women's connection with their children can't be overestimated. Such self-forgetting devotion isn't common in Western families, comparing to Slavic ones.
10) Russian mothers know how to be patient
When parents lose their patience, they may become frustrated, which results in resentment and sometimes anger. Children can easily pick up such emotions no matter how hard you try to hide them. The thing is that kids that grow up in families, where anger and frustration prevail, have higher risks of developing low self-esteem, leading to anti-social behavior and depression. Patience, on the other hand, helps with creating the atmosphere of respect and love. That's why all Russian moms are so great at bringing up kids.
In conclusion
These were ten key reasons why Russian ladies are the best candidates for the role of mothers. Sure, sometimes they may go too far when performing their parental responsibilities, but everyone has their flaws, right? At least Russian ladies have a lot more to offer in terms of family life than Western ones. So think about it when choosing your future wife.