Tens thousands of men from the US and other western countries are flocking for a chance to get a beautiful Russian woman as their wife. Owing to the beauty and caring nature offered by these gorgeous women, many men find it irresistible to go onto one of the online dating sites that offer huge databases of single women's profiles.
Wooing a Russian lady can be very different from wooing any of your local women. They have a totally different lifestyle and attitude that make them more difficult to impress. Their likes and dislikes are much more rational and they tend to be more practical in their daily lives. If you're a westerner looking to start an interesting conversation with a Russian girl, here are some tips that might help you.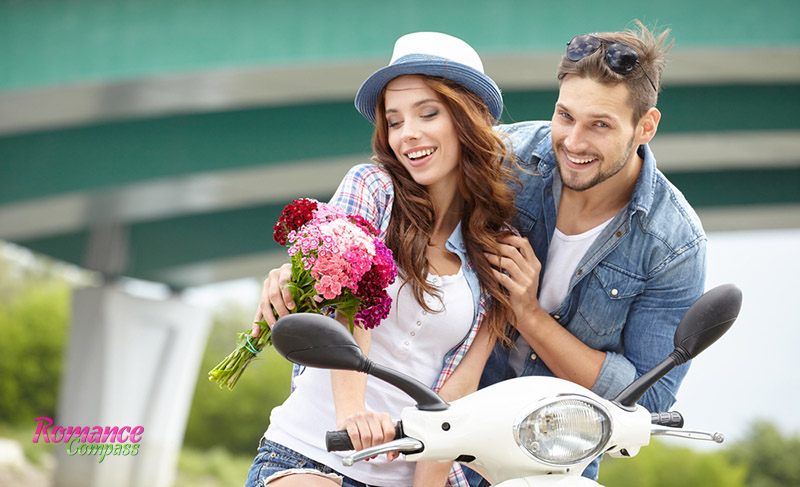 Compliment her!
All women like being praised and complimented. This is particularly true about Russian women. They like hearing their men appreciate their beauty and take special care in making sure that they are always looking good enough to be complimented.
Some Russian women dress up solely for their husbands and partners to admire. They maintain their bodies and pay attention to every detail. It is well known that a Russian woman will visit gym if she gains a couple of extra pounds instead of wearing something that may hide it.
Be Romantic!
Russian women are legendary lovers at heart. They like men who are romantic and make them feel special. This is also because of the rash attitudes of men in Russia. If you plan on taking your Russian girlfriend out for dinner, make sure the restaurant has a romantic atmosphere. Order her favorite food and request for her favorite tune to be played. This may impress her most and you may actually succeed in winning her heart.
Candle dinners are something Russian women are crazy about. They wouldn't mind a candle dinner with their significant other at any place on earth. A slow dance before dinner will impress her like anything. Of course, these are the ideal date options for any woman, but Russians are extraordinarily impressed by men who are willing to do so much for them.
Avoid Sexual Talk!
Having long beautiful legs and curvy bodies, Russian women are desired by every man in the world. But they hate being viewed as mere sex objects and hate men who want just that from them. Due to the attitudes of men in Russia, these women yearn to be cared for and loved more than they want sex. Any man who they think wants just sex from them is thought of as desperate and immoral. A Russian girl would want to feel secure and loved before she lets a man sleep with her. Even jokes on anything lustful or sexual will intimidate her, although, once she starts trusting you she may initiate such conversations herself.
Real Talk
Russian women, unlike many women from the west, are very interested in politics and whatever is going on in their country. If you want to make a good impression on your future Russian bride, make sure you know what's happening there in terms of politics and government. Talking about her opinions on the government and any ongoing protests will make her feel that you actually care about her motherland and are more interested in her personality than her looks.
Impress your woman by talking about the current affairs and updates on anything trending. Russian ladies expect their men to be intelligent and practical. Other things that interest these women are Russian literature and poetry and talking about her family. Apart from all this, because all women are not the same, make sure whatever you talk about, interests her and doesn't bore her.
Chivalry
Men in Russia are very bashful and rude. Western men are perceived to be very chivalrous and gentleman like by Russian women. Be courteous and well mannered in the presence of your lady. Hold the door open for her and pull out her chair, these small acts of chivalry may impress her more than an expensive diamond ring. Russian women admire men who treat their families and parents in old age with respect. They have a soft corner for men who are attached to their mothers and grandmothers and most would even love to hear any story about you and your grandmother from childhood.
Travel with her!
Russian women love to travel. Accompany her on any trips she might like to take to new places. This may also give the two of you some time together to get to know each other better. If you go out on a date with your Russian lady, try talking to her about any visits that you may have made to interesting places. This will probably be very appealing to her. Be careful not to boast about any acts of bravery or courage though, Russian women are very skeptical and take the time to trust men.
Mentioning how much you want to travel to Russia and other places that may impress her and also make her talk about some of the places she would like to visit.
Know Your Lady's Food!
Although Russian food is not very famous for its taste, you may find some of the dishes very enticing. Know that Russians are quite proud of their culture and do not say anything about their food at any cost. Also, if you plan on marrying a Russian woman, understand that a major part of a real marriage is home-cooked food. So you better get used to the more delicious dishes like pelmeni, borscht, and Russian salad.
Remember, Russian women like their men to be well dressed. You don't have to be all flashy and extravagant with an expensive designer suit, but as long as you look the part, she will be more than happy to accompany you wherever you take her.
Do not pretend
Russian girls' tastes differ a lot. Some ladies like musicians, some – clever bookworms, some – sportsmen. You will never know what exactly to do and who to become to satisfy them completely. And, you know, what? You don't have to. First of all, look for the interests you have in common and never hide your passions. For example, she may be looking for a musician or a strongman, but you are more like Jimmy Neutron than Rambo or Adam Levine. Never try to fit her expectations lying that you started to train or play a week ago. First, find something in common like the Harry Potter series and the Lord of the Rings and in a week, she will win most of your PlayStation games. One of the peculiar features of Russian women is to value the interests of the beloved and stay proud of them despite their own preferences.
Ask questions
The more you wonder about her the more you care. It is a well-known logic of Russian women. They often suffer from the egocentrism of the Russian guys and get used to being a background character. In addition, you will know her likes and dislikes. Ask about her hobbies, interests, work and make an eye contact. Enjoy her wide smile, shining eyes and joyful tone of voice… Go ahead and ask more on the favorite topic. Make her cover a topic and she will estimate you as a non-selfish, thoughtful and polite man.
How to Impress a Russian Woman with Words
When choosing the right words to impress a Russian woman, consider the following options:
I'm very happy to have you in my life. Each of our dates charges me with positive emotions. Thank you for making my every day brighter and more interesting! I'm interested in spending time with you, even if we're just walking side by side in the park without saying anything to each other.
Even if scientists can prove that love doesn't exist, I won't believe it. Because I love you! You make me smile. You are exactly the person I want to be with. I want to protect you from all bad things and make you happy! Thank you for being here!
Today is a special day for me. Like every one of our previous days together. When we are not together, I think of you because you fill my life with joy!
You are an amazing girl! I really like your smile, and I hope I can make you smile again and again! I really like your charm, and I admire your femininity. I will remember our first date forever! Thank you for that little adventure and for the good mood you gave me.
You are a very perky, fun, and positive girl. I'm amazed at how you can find the positive side in any situation. Getting to know you is a real gift for me.
Darling, I love you so much. You are smart and very perceptive, kind and sympathetic. I was lucky to find you. And I will protect you and our relationship like the rarest flower in the world. Thank you for being with me!
My dear! Hope my little present will make you smile. You are unique, so sunny, bright, beautiful, and kind. Your views on life are very close to mine, and I hope that you and I have a lot of adventures ahead.
Our first date was unforgettable! That evening will always be memorable for me, because I didn't expect that you are such a charming person. I am just amazed at your kindness, purity, and charm. You are incredibly beautiful! I hope this little present will be a reminder of me and our first date (and give her a little gift).
Honey, you are a positive girl and I always liked it in you! I adore your mind and absolutely love your sense of humor. I want to tell you: don't be afraid of anything! I will become the person who will protect you from any trouble. Thank you for being with me!
I was very pleased to spend time with you! It is very interesting to communicate with you, it is a pleasure to look at you. You are amazing, so erudite and gentle, attentive and responsive. Let this little gift remind you of our love forever.
What Does Not Impress Russian Girls
Every lady has her own vision of an ideal guy. But all women with no exception desire to have real men alongside. Those men have to be masculine and trustworthy and at the same time gentle, intelligent and attentive. Now you've already learnt some ways of impressing Russian girls. But what nasty things can hold you back from impressing Russian women? There are some traits that Russian women just can't stand. Sometimes an extremely nice guy can wake up dissatisfaction in a woman only because of his terrible untidiness or inability to behave correctly in society. Check them out and if you have at least one from the list, you should try to eliminate it in order to impress a Russian girl. Here some other bad traits:
#1 Hesitancy
That is what makes Russian females look at men like at lame ducks. Women expect their partners provide reliable support and protection. And what can be expected from a man who doesn't even believe in himself so much that he is not capable of creating a decent life for his beloved woman, he is so dependent on the opinions of others around him and unable to deal with even the tiniest problem by himself. Women don't like such men and that's all about it!
#2 Lack of initiative
Another trait that will never allow you impress Russian girls is a serious deficit of initiative. If you want to find a Russian girlfriend, then keep in mind that they absolutely hate men who can't bear responsibility for their words and deeds, unable to defend their point of view. These qualities characterize a man as a weak and insecure person. What girl wants such a companion for life? Women are seeking for support and protection in a man and such men can't grant those. Russian ladies literally worship man's confidence. It acts as a guarantee that a woman will feel like behind a concrete wall next to such guy.
#3 Absence of personal opinion
Partner's full agreement with whatever his woman says may even touch the soul of a lady at the beginning of a relationship. It may seem it is nice that a man listens to and acts as a woman advises. However, over time, this regular agreement begins annoying. Russian girls believe that a man should have his own opinion on some issues and clearly express his position as well. Men without their own opinion are unattractive for women because they are in category of the weak.
#4 No interests
It will be horribly dull to date a man who is only interested in sports and computer games just because there is nothing else to talk about with him. He is not into something new, doesn't want to learn new things and is not able to share them. Nowadays smart is sexy, that's why intelligent guys are super interesting for women as they always can surprise them, and as you know, women adore surprises.
#5 He still keeps in touch with his ex
Imagine that your girl broke up with her first love a few years ago but continues maintaining some sort of a "friendship" with him. And not just friendship, but she tries to participate in his life - she listens to his complaints, helps him out in difficult situations. Not really pleasant, huh? Women are also irritated as hell when men think that their exes are family friends. Maybe it's better to leave the past in the past and live for the present relationships?
#6 He's a hopeless boaster
Women find it really pissing off when men start bragging, always open their purse in front of a girl demonstrating the amount of money and dozens of bank cards, talk pompous about their accomplishments, and so on. Trust us, girls are so clever and astute that can sniff about the social status of their partners without any clues provided.
Undoubtedly, this is far not the whole list of obnoxious male personality traits, stated by the beautiful half of humanity. This doesn't mean all men possess the following characteristics. Indeed, there are a lot of nice, intelligent, and noble guys on the planet Earth despise all the whims and whiners. We are certain you are one of those real gentlemen, so it will be no problem for you to get a Russian girl.