Content:
What makes so many foreigners look for a Russian wife? Why do Russian women want an overseas husband? These questions are often asked by those who are about to create their account on an international dating site. We know the answer. As to the women, there can be a lot of reasons why they decide to look for a husband outside of Russia. Among the most popular are a lack of male population in their country and wish for finding a compatible partner in terms of education and views on life. As to the foreign men looking for a wife online, many of them have heard about famous Slavic beauty, which has charmed so many men from different corners of the world, and they want to see it for themselves. But beauty can't be named the main reason why Russian women make the best wives. You have to figure it out yourself but if you're in doubts because of different articles about Russian girls circulating on the Web, we'll provide you with an exhaustive account comprising the most vivid features that make Russian women stand out, myths and truths about them, and a list of traits that give us the right to claim that they are the best marriage material.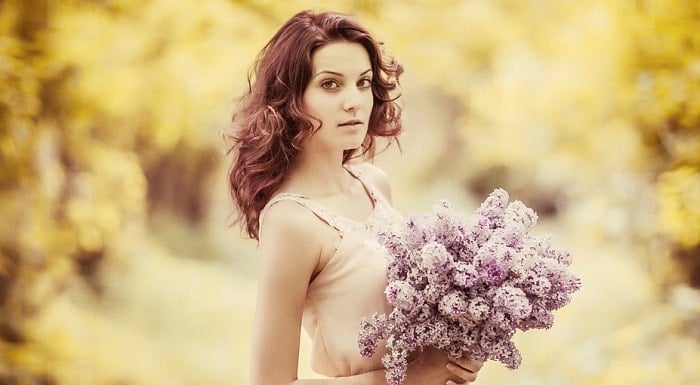 One of the reasons why foreigners want to find a significant other in Russia is that Slavic girls are not like other women. It doesn't mean that they are a totally different breed but there is something special about the women from Eastern Europe. Foreigners often complain that women from their countries are independent, interested only in their careers, egoistic, and want to blur the line between the genders.
Indeed, many women in Europe and the USA are obsessed with the feminist views and very often they go too far in their struggle for gender equality driving the men crazy. So, here we speak about the extinction of femininity in Western women. The situation is different with Russian patriarchal society which has been dominated by men since time immemorial. However, it's not absolutely so. Today, men think that they dominate simply because women let them think so. For instance, a Russian girl will never accentuate her boyfriend's attention on her income that may exceed his several times. She realizes that sometimes it's necessary to tolerate certain things and avoid bringing certain matters up. This all is dictated by the tradition of keeping the line between gender roles. And Russian girls keep that line turning this tradition into a kind of game. They expertly disguise their inner power and mental strength under the cover of fragility and weakness. That is how they encourage their men to treat them with kid gloves (hold the doors, carry heavy bags, help with appliances, bring flowers etc). Every man would like to have a woman who makes him feel significant and powerful. Being able to act womanly is one of the manifestations of true femininity.
Feminine appearance is another conspicuous feature of Russian girls. The drive to look their best stems from the competition for men's attention and usually, it's done unconsciously. Russian women realize that they are beautiful and they don't want to hide their beauty. While there is a tendency among Western women towards wearing comfortable clothes, most Slavic girls choose to wear smart dresses with high heels to turn heads. Also, a rare Russian woman will leave her house without at least some makeup on, no matter whether she goes to her office or to the nearby supermarket or park on the weekend – she wants to look her best all the time. And yes, Slavic beauty is famous for women's feminine figures and facial features given to them by nature.
Another divergence lies in the attitude towards professional and family life. Western women prioritize their career paths and don't even want to hear about commitment if it will prevent them from achieving their career success. Many Russian women want to get good jobs and fulfill themselves professionally but when it comes to starting a family, their career ambitions will take a back seat. It can be explained by the role the family plays in Russian society: it definitely heads the list of values and life priorities of all their people. A married woman with children is already considered successful by the society while bachelorettes focused on their careers are usually frowned upon. Single women realize that sooner or later they will necessarily settle down because without their own family they will not be completely happy. That is why most of the Russian women see their main mission in becoming wives and mothers rather than workaholics and business ladies.
As to having babies, Russian brides can't imagine the family without children. Their views run contrary with the opinion of many Western women who are inclined to think that children are a burden that prevents them from enjoying their life in full. While they often decide to have a baby in their 30s or even 40s, Russian girls often give birth to their first child shortly after marriage and an average age for tying the knot is 23 or even younger. Owing to the fact that so many couples decide to get married at a comparatively young age, career oriented girls experience difficulties finding a compatible partner in their early 30s because most decent men have been already married. And this is one of those reasons why Russian girls start looking for a husband overseas.
As you can see, two main determining features of Russian girls are femininity and family-oriented attitude. No wonder that so many foreigners want to win the heart of a Russian woman.
Heightened interest in Russian women as potential wives has given rise to many stereotypes and misconceptions concerning their intentions and personal characteristics, sometimes very far from the reality. Probably, you've come across a lot of different opinions and read different articles aimed at either condemning or praising Russian girls. Now, it's time to figure out the truth. As a wise man said, the truth is always somewhere in the middle between the myth and the fact, so we decided to provide you with both.
Myth 1. They want to leave Russia. There is a popular stereotype about Russian girls according to which they pursue only two interconnected goals: to find a foreign husband and move to his country of residence. The truth is that their primary goal is to find a compatible partner, not necessarily a person from another country. Since Russian families are very close-knit, it's very hard for them to stay apart from each other for a long time. Any woman would be happy to get married to a local guy just to live closer to her kin.

Myth 2. They are undereducated. This is a totally groundless accusation. Most Russian women have a college or university degree; some of them often have even two degrees in different fields. It turns out that the girls who decide to meet a foreign man online are usually university graduates with good command of English, good jobs, and interesting lives. An educated person has nothing in common with those who don't have one, so no wonder, they want to date the man with similar background. When they fail to find the man with whom they would be on the same page, they start their searches for him online.

Myth 3. They hate Russian men. This myth stems from the prejudice against Russians as heavy drinkers. In fact, there are many alcohol abusers among Russian men but it would be wrong to claim that Russian women hate all of their male compatriots. There are a lot of decent Russians who make great husbands and any woman would be happy to marry one of them. However, when a 30-something woman decides to settle down, she faces the reality in which all decent men are already married. In this situation, an educated and independent woman doesn't want to waste her life on a man who doesn't care about his health and the health of their future children.

Myth 4. They are not very picky. According to this myth, every Russian girl would fall for any guy with a citizenship other than Russian. The truth is just the opposite. For any decent woman, be she Russian or not, the main criterion while looking for a husband is his personality. Every girl dreams that one day she'll meet an intelligent, reliable, honest, caring, sensitive, and loving man who will be a great husband and doting father. She'll continue her searches until she finally meets him and the last thing she'll pay her attention to will be his nationality. Here, everything depends on you and your self-confidence.

Myth 5. They are submissive and timid. Russian women are often described as obedient housewives who will do anything for their husbands. It's true that in Russian families a man is a leader of the family but it doesn't mean that a woman always has a secondary role. They say that a man is a head, while a woman is a neck: where it turns, there the head will look. This Russian proverb emphasizes the equality between the partners and the covert power of woman in the family. Russian women have their opinion on everything that is happening around and they will not be silent if they have something to say. Another truth about Russian women is that not all of them want to become housewives after marriage; many of them want to combine their family and professional life. And you can be sure they will excel at both.
Great looks of Russian girls are only a beautiful cover under which so many merits are hidden. It's difficult to compile a complete list of all them because they are pretty numerous. Among their most conspicuous traits are the following.
Loyalty.
Have you ever heard the expression "mysterious Russian soul"? For many foreigners, the way Russians behave in some situations is unexplainable. When applied to describe the relationships between a man and a woman, this phrase means woman's ability to love her partner more than anything in this world and her readiness to do everything for him. If a Russian woman truly loves her man, she kind of puts him on a pedestal. This is where the expression "blind love" will be appropriate to describe her attitude to him. Russian women love unconditionally and self-forgetfully. Loyalty means for them following their loved ones to the ends of the world and staying by their side through thick and thin. Isn't it great to know that you have someone who will always back you up and follow you though the darkest days, holding your hand and smiling?
Prioritizing the family.
Every Russian woman believes that her main purpose in this life is to become a wife, give birth to a child, and devote her life to her family. Although many Russian girls want to achieve something in their careers, when it comes to starting a family, they will readily sacrifice their careers because they know any professional accomplishment can't be more significant than the moments spent with the family. A Russian wife will always give up her job and will devote her time to her baby or will do her best to combine her work and family life.
Maternal love.
Russian girls do make excellent mothers. Traditional Russian family is incomplete without kids and Russian women can't understand why Western women consciously choose not to give birth to a child. Following their parents' example, Slavic girls are psychologically ready to become mothers as soon as they get married. While raising their kids, they want to provide them with everything they need and do everything to make them happy. They love them so selflessly that they're ready to quit and give up anything that stands between them and their children. As we mentioned above, they're even able to ruin their careers for the sake of maternity.
Housekeeping talent.
Apart from caring for her husband and children, every Russian woman always keeps her house in order and creates a cozy atmosphere there. You can be sure that after a long working day when you come home, a tasty dinner is already waiting for you. Russian girls learn the art of housekeeping from their mothers and grandmothers who also teach them how to be thrifty. Most Russians are used to living on a budget so they know how to economize. So if you have problems with budget-planning, don't hesitate to turn to your Russian companion for help.
Sincerity.
Being honest and frank themselves, Russian women appreciate these qualities in other people and expect to be treated accordingly. Any relationship based on sincerity is destined to be successful. When building a healthy union, your main priority is to be completely open with your loved one. And if you're not used to sharing personal things with people, your Russian partner will gladly teach you that. These ladies are so good at this that you'll probably never want to tell a lie again.
Creativity.
One of the reasons men try to find Russian brides for marriage is because Russian women are very creative. They can draw, dance, sing or skate because they like diverse creative activities. Such attitude helps Russian women to stay focused. Perhaps, due to that Russian girls are so passionate and enthusiastic seeing as how they have artistic souls. You are probably wondering whether you really want a "creative wife", and, if yes, then what for? Well, for one simple reason: you won't be bored with a wife who is not boring herself. Creative women are very interesting to be around. They're constantly in the middle of attention. Talking with them is pure pleasure. You will most certainly be excited by their ability to come up with something new.
Creative Russian ladies for marriage can surprise you with their originality. Yes, all women, even all people are unique and original. Still, Russian women are exceptionally original. Need a hilarious idea for a birthday party or don't know what present to choose to congratulate your buddy on his promotion? Ask your Russian spouse for help, and she'll deal with this problem in not time. Each and every one of the Russian girls for marriage is a 100% rare woman that has her own interesting personality. Russian women have very strong identities. They make it their life goal not to be like everyone else. And that is why they are effectively different. Having an original Russian wife will make you think that you won a lottery jackpot. Surely, you won't regret having a one in a million wife. This way you will feel lucky for a reason.
Understanding.
There's something about Russian women for marriage that makes them very understanding. Looking for a life partner to build serious long-term relationship you want a person you can get along with. Well, then you should find somebody who knows what understanding is. Somebody who doesn't need words to figure out that you're seeking an emotional backup or that you just want someone to cheer your up. Russian women can make men feel comfortable at any occasion. Having a hard day at work or coming through challenges you deserve a partner who can take care of you. Russian women are very skilled in providing emotional support for their men. Without understanding, sympathy, and compassion there's no chance for you to communicate with your life partner effectively. Personal relationships require a woman to be caring, understanding, and helpful first of all on the emotional level. This is good for your own sake and for the sake of your family.
Responsibility.
In Russian marriage culture women get married only when they feel ready to make a commitment. You won't be disappointed by insincerity because when Russian women get married they know what they're doing. In other words, they take marriage seriously and don't mess around. Surely, you don't want a wife that you can't count on. You already have enough uncertainties and challenges that make your life more complicated. You want a wife who can provide care and support, comfort you, and make you feel loved and valued. Russian girls know how to do that. They only marry when they really want it. They also prepare for the marriage emotionally which is why they make good wives. All in all, responsibility is one of the most important things keeping marriages intact. Without any doubt, Russian girls are very responsible in regard to marriage, family, and personal relationships.
Passion.
Your bedroom is not the only place where you need passion. Russian girl for marriage are naturally passionate. In other words, they have enough enthusiasm to make your life happier. With a Russian girl by your side you will most certainly become more positive and optimistic. A typical Russian girl is passionate about life in general. That's why women in Russian are so open minded, interesting, creative, and original. You can feel energy by simply standing near them. Marrying a Russian girl will transform you into a more successful, dynamic, and energetic person. She'll give you that boost you always needed to reach new heights, master a new hobby you always dreamed of, or even climb up the career ladder. In other words, Russian girls can easily push you towards self-development. You will become better as a person.
Now, you have a clear idea of Russian women as potential life partners, and, maybe, have no reasons left not to get acquainted with one.. If you're looking for a beautiful, smart, honest, loyal woman who has similar views on family and gender roles in it, then you should definitely start dating a Russian girl.
One question that often bothers western men is what are Russian women like in bed. If you type "Are Russian women good in bed?" in search section, Google will give you approximately 150 million articles on the issue. How confusing is that? Most of them agree on the fact that Russian girls are extremely good in bed. So, all in all, it seems that you've got your golden ticket, but how good Russian women are in bed?
They do what you want
Russian women are not only great wives but perfect lovers as well. Just like with cooking, they are always ready to give you what you want in bed. There is unlikely something that a Russian woman wouldn't do to please her man in bed. All you need is to give her some tips on what you want, and she would easily figure out what to do next. But don't be too persistent if she doesn't feel like fulfilling your desire. The worst thing you can do is persuade a Russian woman to sexually please you against her will. Take small steps, and, eventually, you'll get what you want.
They like to experiment
Russian women like to experiment in bed, and it would be the best if you would follow her ideas, as you don't want her to think that you are boring. You don't want her to compare you to Russian men, who rarely give their women a possibility to experiment in bed, as they only think about their own satisfaction. Moreover, you don't have to try real hard to make up some ideas how to spice up your sex life, just let her do what she offers. Don't be selfish, and your Slavic partner will reward you for that. In case she's not that inventive but wants variety, feel free to suggest a couple of tricks.
Hard day is an unlikely excuse for them
A hard day is an unlikely excuse for Russian women not to have sex. You should mind that she is able to have sex even if she has spent all day long cleaning, cooking, and shopping. Moreover, she might want to have sex with you even if you've had an argument, and she's mad at you. Why not? That's a great way to blow off some steam after a fight. Get sure that you are strong enough to handle a woman with sexual appetites like that. Otherwise, she may consider you boring, and that's not how you impress ladies from Russia.
In order to avoid making a bad impression, you need to learn a thing or two about what Russian women expect from you in bed. So, check out our tips without further ado.
1. Talk with her
Although some girls prefer their partners to be silent during sex, with only some moaning allowed, most Russian girls like when their partners talk with them. You should make her compliments while having sex. Tell her how much you love her, tell her how good she is, and she will definitely enjoy it. Just whisper something romantic in her ear and watch her turn from a shy girl into a passionate lover. But know your limits. After all, you're having sex, not some friendly chat. Five or six phrases during intercourse should be enough to make her moan louder.
2. Be inventive
Considering the fact that she prefers to experiment, you should really be inventive. Don't let her make up everything all the time. You can try new positions, and you can try role-playing. The more inventive you'll be the more she will enjoy having sex with you. But before trying something like that, you should ask her how much she's into it. How knows, maybe you've found a Russian girl who's only into conventional way of having sex. If you don't want her to know you're planning to make a surprise for her, and asking her would definitely spoil the fun, just limit yourself to some romantic attributes of usual sex, like candles, silk linen, or other things that show your creativity but don't make your partner feel uneasy about having sex with you at the same time. Mind also that not only men enjoy oral sex, so you should really try pleasing her orally, as it is something that Russian men rarely do.
3. Don't limit sex to bedroom
There's nothing wrong with classic sex in a soft, king-size bed. As mentioned above, some ladies wouldn't prefer it the other way. But if you want to convince your Russian lady that you are adventurous enough, don't limit sex to the bedroom only. She would definitely enjoy if you try having sex in the car or maybe in public. Be careful with the latter, though. Slavic girls aren't as liberated as Western women. If you are going for the picnic, having sex in the park can really spice up your sexual life and bring a new spark into your relationship.