The paradox of the elements only seems like an absolute failure. Regarding people's feelings, you should not be so categorical here. Working together increases the chances of an excellent result despite the contradictions between Air and Water. Differences in characters are much easier to overcome if you add the presence of sincere feelings.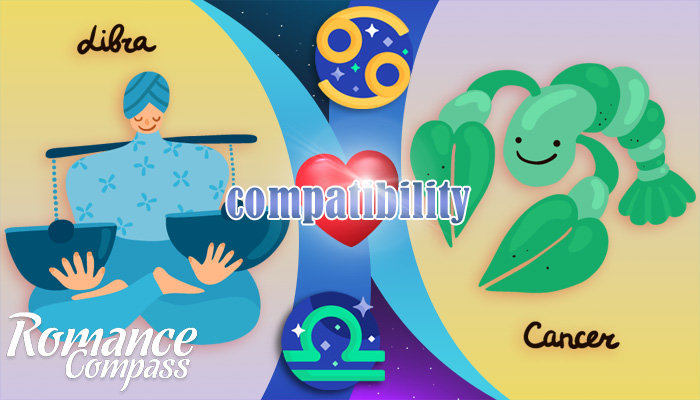 Getting to know potential mates can be a stressful situation. A problematic point will be the differences in outlook, leading to a lack of common interests. To overcome this obstacle, it is worth creating a comfortable environment and working on creating a union of trust. A shy representative of the element of Water instantly hides in his world, so you will need to give him a little time for self-determination. However, Cancer will show persistence and perseverance if the partner interests him in the meeting.
Your partner's down-to-earth nature will allow you to balance an untrusting another half. Due to its influence on the partner, it will be possible to come to a compromise and take care of the maintenance of optimal comfort. Thanks to creating a feeling of safety, it will be possible to pull the representative of the Water element out of the shell.
What is the sexual potential of Libra in bed? Their compatibility with Cancer
The first intimacy will be a pleasant surprise for the two opposites. However, some differences do not affect the quality of sexual life because representatives of Water and Air are compatible in bed. The secret lies in that both partners are fans of romantic acts, which can unify them. For intimacy to bring pleasure, there are several temperament traits to consider. Libra is a partner looking for new ways to satisfy the other half. He is no stranger to experimentation and will gladly agree to try something new.
As for the sexual preferences of the second partner, you don't have to guess his desires. Create a trusting atmosphere, and Cancer will tell you about what he lacks. There are no taboos for him, so you don't have to get his consent to have an unusual experience.
Will Libra be able to build a friendship with Cancer? Is compatibility high in this aspect?
It is difficult to predict whether the communication between the two interlocutors will develop. Libras prefer to avoid looking for new friends and spend very little time. Among their preferences, contacts with proven people who may become better companions in the future are worth noting. Cautious Cancer is also in no hurry to get acquainted with new people. It takes him a long time to feel trust in a person. This lack of faith is the reason for most communication problems. Slowness affects the speed of assessing the situation and takes a lot of energy and resources.
There is no talk of instant friendship among these strangers. Communicating with mutual friends is the only option for creating the necessary contact. Lack of common interests and aloofness will only allow us to build strong friendships with the help of strangers. Tandem between representatives is also complicated because communication with the opposite sex is difficult. If one of the potential friends has a soulmate, they will only continue the conversation for a short time. Hiding their lack of interest is not in their rules.
Libra and Cancer compatibility percentage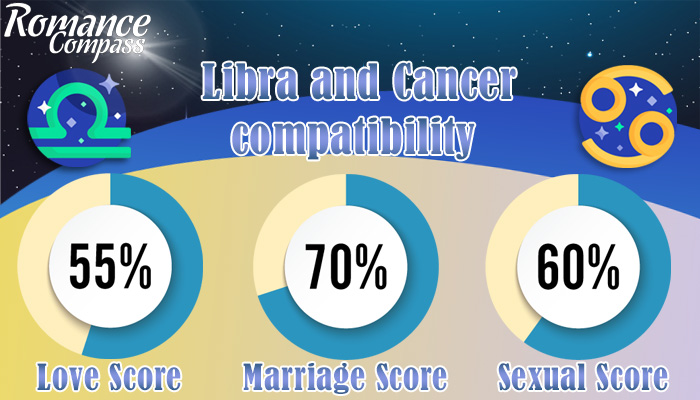 Can Libra become soulmates with stable Cancer? Will they make a good match?
They will only create a cozy symbiosis after some time because intolerance for other people's shortcomings can significantly slow the couple's development. However, after time, the antipathy will not remain a trace. Both partners tend to be faithful and forgive their loved ones' mistakes. The most challenging stage in a union is the beginning. The first time it will be necessary to look for compromises and approaches, considering preferences. For example, the desire for privacy should not be perceived as aloofness and logical thinking as a way to humiliate the partner. Both signs do not like to resort to aggression and demand the same from others.
Can Libra not avoid potential problems in a relationship with Cancer?
Conflict situations will not be the primary way to clarify tandem. Conversation in high tones is perceived negatively, so the couple will try to do without it. Scandals, provocations, and other ways to get your partner off balance are rare. In time, they will disappear altogether. For a comfortable existence for a couple, it is necessary to get used to the differences in temperament. Time alone is the best way to get back to normal for Cancer. Free space and the absence of the other half allowing you to restore composure and put everything in its place.
The earthy representatives of the element Air feel the need to show attention. Therefore, restore a good union thanks to pleasant surprises and romantic actions. However, leaving your partner alone is unnecessary because such a step can be interpreted negatively.
Marriage and Libra. Is compatibility with Cancer possible here?
Union in marriage depends mainly on the desire to create a comfortable life for the other half. To achieve the goal, you must pay less attention to shortcomings, forgive mistakes, and allow enough time for rest. As you age, it will be easier to turn a blind eye to the need to be alone. It will allow you to forget about conflict situations, avoid scandals and create a trusting atmosphere. In addition, an attentive attitude to your partner's needs will allow you to maintain marital happiness.
Spending time creating a tandem between representatives of two contrasting elements is worthwhile for several reasons. First, both partners are still deciding whether to betray the other half and try to keep the fragile peace. The only way to stabilize the union is when the basis of communication is trust and mutual respect.