Spending time at home together with a significant other always feels special and intimate. Even in the best restaurants, there are always other people around. And you can't feel fully intimate together with your significant other because of them. This is why it may be pretty hard to have intimate moments there. Those couples who have active lifestyles and have been dating for more than one year know how relaxing and pleasant this may be. Unfortunately, not everyone knows and understands this. Some couples simply feel frustrated due to the necessity to switch to the isolation mode. This is because they just can't see how many opportunities they have to bring more romance in their lives, even without living their homes.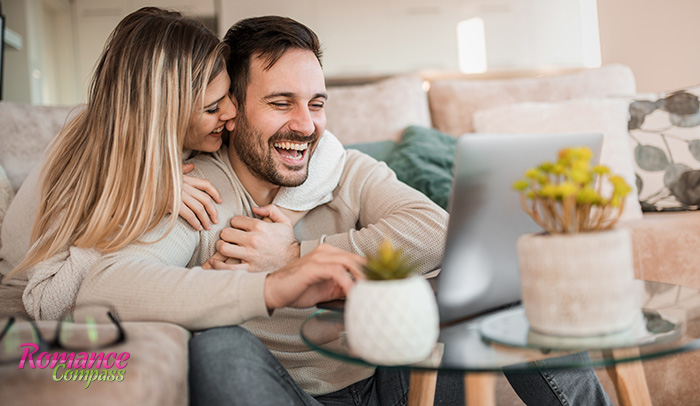 Unfortunately, even the best ideas for home dates won't help if you don't have a romantic partner. Nowadays, all the best online dating apps or websites are full of new people. Those websites and apps have become more and more popular since the beginning of the Internet. After all, people are social beings, and our desire to be with someone is unbeatable. Especially today, when we are literary forced by the circumstances to stay 24 hours at home. However, when it comes to online dating, no one says that you can't arrange a beautiful video-date with your new partner. For example, you may watch something together online or just connect via video call to have a video dinner date. In any case, it is always nice to have a couple of home date ideas in mind. Who knows, what if your new online dating partner decides to pay you an unexpected visit?
We Underestimate the Power of Date Nights at Home
When people are not ready to spend 24 hours together and lack home date ideas, they get tired of each other very soon. Thus, they begin to feel bored together and quarrel more frequently. This whole situation may even end up with a breakup. The only way how this may happen is when both partners underestimate the power of date nights at home. You see, often people don't even try to find fine ideas for a date night at home, they just don't see their homes as a nice place to have a romantic date.
Nowadays, we have many varied opportunities to arrange a romantic date. For example, cinemas, restaurants, beaches, roofs, parks, and other interesting for couples' places. Needless to say that when we get used to having all our activities outdoors, we have hard times when we are forced to stay at home for a long time. The majority of people see their houses as very nice and cozy places where they can restore their energy and get ready for new adventures in the big outdoor world. Therefore, the isolation mode becomes a nightmare for them.
Some say that when two people are in love, literary any place can become romantic and special for them. Your house is not an exception. Stop seeing it as a cage that holds you and your partner, and turn it into a fortress that protects you. For example, even a simple movie date night at home can help you in changing your attitude towards date nights at home. Even in normal circumstances, great date nights at home can be a game-changer that will bring more romance and coziness to your lives. Staying at home doesn't mean that sooner or later boredom will swallow your happiness, it only means that you have an uncountable amount of romantic date night ideas at home that can make you happier than ever.
Key Ingredients of a Home Date
As you have already guessed, home dates are very different from standard dates in restaurants and other places. First of all, you will have to pay additional attention to the atmosphere of your home date. When you go to a restaurant, even preparation and your way there tune you to a romantic mood. In the case of arranging romantic date nights at home, you don't have those options. However, there are a whole bunch of other things that can help you tune yourself and your partner to a romantic mood. In this part of the article, we will share the top 3 key ingredients of a successful home night date.
The spirit of unity
At home, you and your partner have a great opportunity to work on your spirit of unity. It will help you feel closer and more intimate. At home, there are no other people around you, so you can truly relax and enjoy each other. Gentle hugs, care brief kisses will help you both feel the spirit of unity.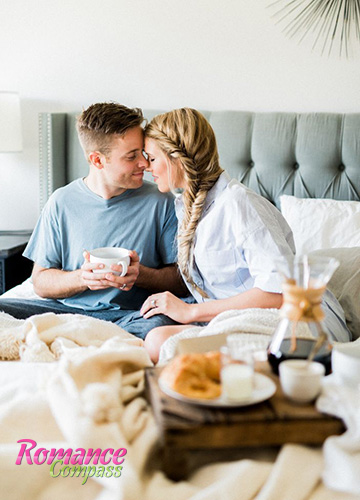 Positive vibes
At home, you have a very nice opportunity to pick up on the positive vibes. The only thing that you need to do is to mutually send each other positive signals during your night home dates. It can be just anything, for example, even simple but honest smiles can serve as a great source of positive vibes.
New experience
Boredom appears when people don't change anything and have the same emotions for a certain time. Yes, in the isolation mode, you can't change your surroundings, but you can change your behavior and ways how you spend time at home. Thus, if you find a bunch of fun at-home date night ideas, boredom will never hit your romantic relationship because your life will be filled with new experiences.
20 Ideas for a Date Night at Home
When you have to stay at home for an unknown period of time, your circumstances might be very different. Of course, all those circumstances directly affect the suitability of date night ideas at home. For example, if you have children, you might need to exclude all noise and loud activities. We've tried to pick the most suitable for any circumstances date ideas at home. So, you will have many interesting options. We hope that next time you don't feel like going out, you will try one of our interesting, and what is no less important, budget at home date nights ideas.
1. Video-gaming night
Nowadays, everyone loves gaming. According to sociologists, an increasing number of couples regularly have gaming date nights at home. For example, you can take your favorite beer or a bottle of wine. You can play both story-based games (they feel just like watching movies or TV series) or change games. The loser has to do something to a winner.
2. A movie or TV-series date night
Of course, when talking about dating nights, we can't forget about the movie or TV-series. This idea is useless if you regularly watch TV series together. Thus, it won't be a refreshing activity. In every other case, feel free to buy your various drinks and snacks to make your TV-series night date special.
3. Pretend that you are dealing with a power outage
In the modern world, we fear to face a power outage more than anything else. Anything that causes strong emotions, in controlled circumstances, can be turned into a pleasant thing. For example, in this case, you can light candles, open wine, and start telling ghost stories. This will be a very refreshing experience.
4. Home spa date
Searching for some fun date nights at home? Set up a home spa for your significant other! Find comfortable spa slippers and robes, make face masks, cover each other in body scrubs, drop a pleasant bath bomb into your warm bath, and spend a night there together with your significant other.
5. Taste new things
When you have to stay at home, it doesn't mean that you can't try new things! For example, you can arrange a tasting night date for your significant other. You can pick anything: chocolate, fruits, cookies, whiskey, wine, or ice cream. To make it even funnier, you can have small challenges between getting to taste a new thing.
6. Karaoke night
Have you ever dreamed of becoming a professional singer? Or, maybe, you have always been ashamed of your voice? In any case, karaoke home date night is definitely for you! For example, you can find karaoke versions of your favorite songs on YouTube. Even if you have no mic, you can use your phone.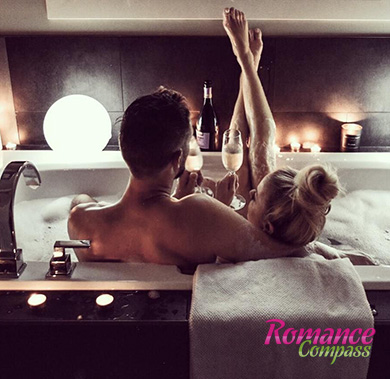 7. Just dance date night
I doubt that there is a person in the whole world who has never heard about Just dance. This is a great opportunity to raise your skill in dancing, improve your body, and have fun together with your romantic partner, especially if you both are just terrible in dancing. Just don't film yourself dancing.
8. Cooking challenge
Cooking is a great thing to do when you both need to stay at home. However, cooking can also be a very nice date idea at home. For example, instead of just helping your partner cook something, you can agree to have a challenge. Find a recipe for some interesting exotic dish, split the cooking process for two people, and have a challenge who will be faster and better at his or her part of cooking.
9. Try to be artists
Buy some cheap linens and aquarelle paints. You don't need to be real artists or masters of painting. Furthermore, you don't need to care about the right painting techniques. It is your time to relax and have fun together with your significant other. Also, you may arrange a painting challenge: paint a couple of pictures and then pretend to be professional critics and analyze your creations.
10. Home date picnic
The warmer it gets outside, the stronger desire to have an outdoor picnic you will have. Well even though, some of us live in apartments, there is no reason to refuse yourself in this pleasure. After all, you can bring the picnic home and make everything ready right in the middle of your living room. Things get even cooler if you have a projector that can project a starry sky on the ceiling.
11. Reading night
A few things can be more romantic than a reading night at home. Pick a nice book and start reading it out loud together in turns. To make things even more romantic, you can light up candles, open a bottle of wine and cover yourselves in a warm blanket.
12. Write romantic letters
To add a little more romance in your lives, you can write each other love letters. You can combine this idea with any other home date night ideas. If you wish, you can share your letters right after writing them, or set a date when you will open them together. Before writing this letter, make sure that you have found a couple of interesting and funny ideas on what to write to your partner
13. Pretend that you are designers
Pretend that you two are designers and try to redesign one room of your house together. The coolest part is that you don't even need to buy anything because you can use things that you can find around the house. This will help you refresh your surroundings and learn more about your partner's taste.
14. Play board games
Board games have become so popular these days, and not without a good reason. This can be a very refreshing and interesting experience for both of you. For example, you can play a standard monopoly or one of those offline collectible card games such as Gwent or even wargames such as Warhammer 40k.
15. Plan your future trips
In one way or another, we all love to travel. Unfortunately, we can't always travel. However, you can use this to arrange a perfect date for your significant other. Surround yourselves with gadgets and start scouting possible locations for your future trip. Plan everything to the smallest detail. Thus, you will learn more about each other.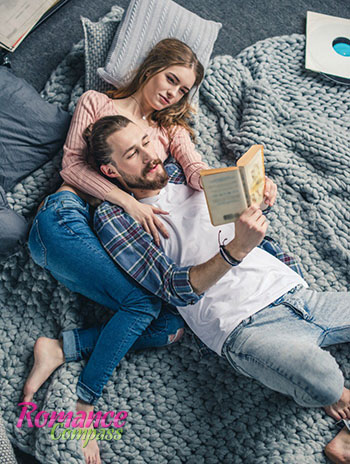 16. Craft something together
Sometimes it is very nice to get creative together. This will help you improve your romantic relationship. For example, you can try to draw each other portraits, decorate mugs, create a scrapbook together. You can choose any kind of DIY project to work together, just make sure that your partner likes DIY things.
17. Start a pillow fight
We often hear that fighting is a terrible thing, and we should always avoid fights. Of course, here we are not talking about real fights, but getting involved in pillow fights will help you feel butterflies in your body again. Apart from trying a pillow fight, you can use water guns or even food fights.
18. Create the ultimate list of date ideas
Working together helps improve romantic relationships and feel your partner's care and involvement in your relationship. This is the best opportunity for you to create a list of desired activities and places to visit and things to try. You will be very surprised by how many interesting things you will know about your significant other.
19. Recreate one of your dates
This is one of the most unique and interesting home date night ideas. You will be very surprised by how funny it will be even to prepare everything together. Pick up one of your interesting dates and try to recreate it again. It will be very challenging. After all, you will have to do it at home.
20. Stay in bed
Seriously, if you, for whatever reason, don't want or can't leave your house, then why not stay in bed for the whole day? When was the last time you let yourselves relax and stay in bed for the whole day? This is a very relaxing and even funny thing to do.
Home date nights can be very pleasant and relaxing, but only if you know what to do and how to make everything perfect. After all, your romantic partner is the closest person you will have in this life, and it is very important to learn to spend quality time together despite the circumstances. People often believe that to have a nice romantic date, they need to go outside and spend hundreds of dollars. However, even without leaving your own house, you can have many cool romantic things to do. Furthermore, this will be a very relaxing and pleasant time together with your partner.