Attitude to online dating is very controversial. Some people believe that this is a time loss, while others have a wedding anniversary with the person that they have found on the website. Anyway, it is possible to say with confidence that the popularity of dating sites is growing day by day since they provide people with an opportunity to talk with strangers from any continent, of any age and financial status, thus increasing the chance to find a person with alike life-views and interests.
Surely, many people know the stories of their friends who met their soulmates on the web. Moreover, this is not necessarily about dating sites. Someone just put "like" under the photo of the interesting person on the social network or started chatting in the instant messenger. The fact remains the same: people have met online. Nowadays, the Internet is just perfect for finding a partner, and the successfulness of online dating is affirmed by several studies, for example, by the research of the famous British psychologist who encouraged young people aged 20 to 27 who were ready for committed relationships to evaluate the effectiveness of online dating. So, they were looking for soulmates on dating sites, and about 70% of the participants took their chatting to the next level.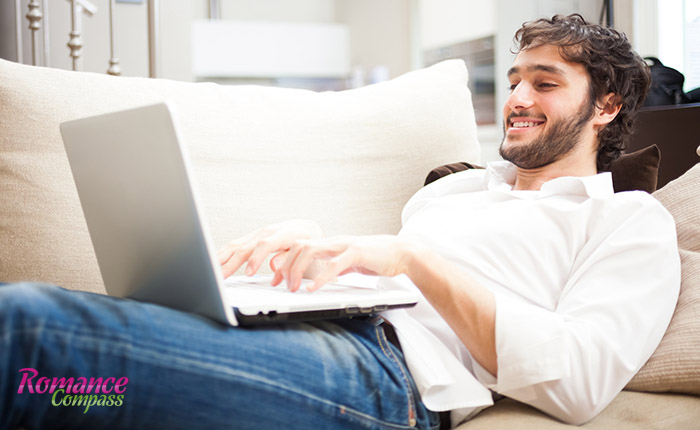 Benefits of Meeting a Girl Online
Online dating is gaining popularity thanks to many benefits. For example, you can meet a big number of different girls simultaneously in a short time, saving you precious time. Besides, you don't need to spend money on numerous restaurants, cafes or cinemas. This way of communication is especially suitable for shy and insecure men as well as for those who have a busy work schedule. Besides, if you don't like something about your new acquaintance, you can always stop communicating without facing scenes on the part of a girl. It's necessary to mention the fact that both girls and boys feel more confident and protected when communicating on social networks. Therefore, it is very important to know how to start a conversation online since it is much easier than in real life. Let's look at the other benefits of meeting a girl online.
It's quick
It seems nobody will argue with the fact that to send a message with some great online conversation starters is much faster than to brace yourself and approach a girl, for example, in the street. When you find someone on a dating site, you can be 99% sure that a girl is in the mood for acquaintance since it is the only reason why she has decided to register on it. So, you don't need to spend your time in vain, trying to make a girl interested in you in 10 seconds, and that's great because time has special value nowadays.
The choice is quite rich
If you go to a bar or cinema to get acquainted with girls, your chances to meet someone of "your type" is pretty low since such places are limited to a certain number of visitors. The Internet doesn't have such a problem, and the rich choice is one of its main benefits. If you have certain requirements for your future partner like hair color or eye shape, then online dating is just the best option since the search system will give you a chance to find many different girls who will meet your demands in one way or another.
You can build a strategy of approaching in advance
If you see a beautiful girl in the street and decide to approach her, you have only a couple of minutes to come up with something interesting that can potentially interest a girl. Such an approach doesn't always work out since you don't have time to prepare. However, when it's about online dating, you have enough time to think about everything carefully and do your best to make a good impression. Besides, you can reflect on your potential behavior pattern in different situations. The existence of a strategy increases your chances of success. Don't forget that all is fair in love and war, and you should always have a backup plan.
How to Start a Conversation Online?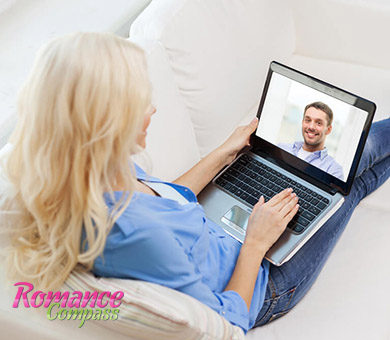 Online dating is the best way to meet women online, and it is gaining momentum since it's much easier to loosen up there. It is easier to have a nice conversation without visual contact because you have time and opportunity to think about answers and questions. Nonetheless, first, you need to understand how to start a conversation with a girl online. If you want to effectively communicate with a girl online, you should adhere to certain schemes. For example, a guy should talk boldly, like a real self-confident person. A man should be purposeful and strong, and he should show that in his profile. Your manner of communication should be tactful, so it's better to search for the best way to start a conversation with a girl online. Anyway, you shouldn't be rude or use abstruse phrases. It is worth talking to a woman, as with a good friend, to whom you have been used to. The dialogue must be natural, and to do that you should consider the following moments.
Learn her profile
Any activity requires training. When you are going to hunt, you should clean the weapon and check your backpack. It's a bad idea to start a conversation with a beautiful girl on the Internet without preparation. You cannot achieve the desired result without information. So, first, you should carefully analyze the available information, so you will not regret wasted time. Don't write to every second girl, but it is better to spend a few minutes studying their profiles to immediately eliminate the inappropriate candidates. Besides, studying the profile will help you learn more about the girl you like and prepare for the first virtual conversation. Most often, profiles contain information about hobbies, favorite books, artists, etc. If you manage to find some common interests, this will increase the chances of a productive acquaintance. Read the profile info in full. Do you meet her requirements? If there is no coincidence on any item, it is better not to waste time or be let down. However, it's not a taboo. If you know how to impress a girl online, then you can try your luck.
Work on your profile too
Your profile is not less important than a profile of your potential partner. In 8 out of 10 cases after receiving a message from you, a girl will decide to visit your profile to find out who she is going to deal with and whether you are worth her response. If you are lazy to fill in your profile and use the best photos you have, then your chances of success are extremely low. Your profile is like your face, so if you are not catchy and attractive then why should a beautiful lady spend her precious time on you? Everyone wants to get the best option, so if a girl has adequate self-esteem, she will delete your message or blacklist you because a person with an inappropriate profile looks weird and uninteresting.
Make up a nice and original starter according to her personality
To successfully communicate with a girl online, you should learn to understand the mood of a person. If the answers are cold and unemotional, it is better to leave the girl alone. You should end the conversation on a positive note and "go out on important business." Doing that, you will show that you have a personal space into which not everyone is allowed. However, to avoid such a situation, you should know how to start a conversation with a woman online, using interesting phrases and unusual information. Talks about yourself should be moderate. You should be more interested in the life of the woman. Girls love to communicate on the topics related to their interests.
With the right approach and the selection of the right words, beauties will be glad to communicate with you 24/7. Make up a nice and original starter according to her personality, pay attention that the required information can be easily found in her profile. Your starter should depend on her hobbies, for example. If the girl does not have a hobby, then it is worth attracting her with the help of flattery and compliments. Such hooks allow you to continue the discussion of any issue. And talks about the latest world news brighten up an awkward silence. You should correctly use the possibilities of social networks. Many ways are creative and can refresh the most boring chatting.
Online Conversation Starters to Impress a Girl
Most girls do not respond to banal messages like, "What's up?" or "How are you?" If you want to impress a girl, you should come up with something original to "hook" her attention. You should make a girl interested in you. How to start a conversation online? Try to search for a hint in her profile. And as soon as she answers, you should find a common topic for conversation. So that the young lady does not get bored, you should be smart and have a great sense of humor. The main thing is that the correspondence should be informative, not too long and monotonous. Usually, girls have a hostile attitude toward obsessive guys. Even if they like them, the lack of tact on their part will frighten them away. If a girl does not show enthusiasm and answers in a monosyllabic manner, it is better to complete the conversation gently. After all, she may have some reasons for a bad mood, so it is better to wait a bit.
1. Your profile doesn't contain any cliched vanilla phrases. You are my ideal, so I just couldn't but write to you. With such a phrase, you will show a girl that you are interested in her personality. The very fact that you have carefully studied her personal information suggests that you are attracted not only by her pretty face. Such an attitude is always appreciated.
2. I've found out from your profile that you are a big fan of vanilla coffee. But, unfortunately, the Internet is not yet able to convey the taste and aroma of this drink of the gods. Maybe one day you will agree to go out for coffee with me. How to start a conversation online dating? Spend several minutes on learning the personal information of a girl, choose a thing that can be perfectly used as an ice breaker and don't hesitate to send the girl your first message. Single girls online appreciate men who pay attention to their preferences.
3. It might sound like nonsense, but your charm works even through the Internet. That's true. If you haven't found any interesting information about her hobbies or interests, but you still want to send her a message because the girl looks charming, then you can safely pay her a compliment, highlighting the thing that has caught your attention.
4. It's impossible to consider social media a universal evil and time-eater if there is the slightest chance that such an amazing girl will respond to me. Such a phrase looks more like a pickup line, but it still can work out if a girl has a cheerful mood and perceives your message with a smile.
5. It seems that last year both of us were in Prague at the same time. I wish I met you there. If you have found from her profile that you have something in common, use this information. Answering the question, "How to start a conversation?" it is possible to say that any common things work always great as icebreakers. So, when you meet single woman online, search for something alike in your lives.
Best Topics for an Online Conversation
The most difficult part of communication is maintaining interest in your personality. Some people believe that if they know how to meet women online and start talking to them, then it's a guarantee of success, but it's not true. A guy should come up with something interesting all the time. You can keep the conversation going with the help of stories about yourself, compliments and discussion of various topics. You cannot dwell on one topic and discuss it all the time. The girl will quickly get bored with such online communication. To make it interesting, talk about different things. Switch from one story to another. Do it smoothly, but decisively. Be sure to use a sense of humor. It increases interest. You can talk about everything you want. There are no bad topics, there is an uninteresting delivery of information. The most optimal topics for maintaining a conversation are the following ones.
1. Popular culture
It will be quite useful to find out about a girl's preferences in movies, especially if this information is not provided in her profile. The information received will help you choose a place for the first date, for example, and you will find out whether you have alike tastes in this case. Of course, you can discuss musical preferences and even exchange your favorite tracks. Music lovers can talk for a long time about their favorite bands. Many women read literature, so you can discuss poetry and prose. Conversations about art will show a man from the best side. Women like educated guys. Intellect is the modern criterion of sexuality, that's why the term "sapiosexual" is so popular.
2. Sporting achievements
Talking about hobbies and activities, you can often hear that a girl visits a gym regularly. It seems that an attractive and healthy body is in vogue nowadays. If you don't know how to talk to women online, then study their profiles, searching for something to talk about. If there is no such information, then it is worth wondering if she goes to the gym or prefers some other sports activities. Attractive women are often engaged in something interesting, so it's a great theme to talk about. Besides, such girls often attend sporting events, and if you share such pastime, it can become a great excuse to go somewhere together.
3. Family and friends
If you are looking for a committed relationship, and a girl is already aware of that, then such a topic can become just another evidence of your serious intentions. Anyway, you should find out about her family and friends in advance, so don't hesitate to ask any questions about things you are interested in. Well, it's a great topic, but only in the case when you don't look intrusive or bother a girl with excessive interrogations. Everything should be in moderation, and a girl doesn't want to talk about that, then it's better not to insist and choose some other topic.
4. Pets
You know pets attract many girls. To some extent, girls demonstrate maternal instinct towards pets and animals in general. So, if you know that a girl is an owner of some cute cat or a dog, then you can ask her about the difficulties of caring for them. The girl will be glad to talk about her beloved friend and challenges that she faces from time to time. Besides, almost everyone has funny stories from childhood related to pets. And this topic also allows you to understand what kind of character a girl has, how responsive and kind she is.
5. Traveling
Everyone likes to travel and change the scenery at least a bit. There is no exception to this statement just not everyone has such an opportunity. So, you can safely start talking on this topic. For example, you can tell her about your recent trip, ask your interlocutor about her plans, and if you have found out that a girl is a great traveler, then you can ask her for advice, explaining this by the intention to go somewhere and the actual choice of a new place. Besides, you can share cool memories and stories from trips. There is always something to tell, is not it?
Most of the girls are waiting that the guys will take the first step, so the men shouldn't forget that they are predators even in correspondence. Girls pay attention to determined and self-motivated guys and easily recognize them even by short chatting on social networks. Therefore, during the initial period of your communication, most girls will wait for your first message. For women, this measures the level of a man's interest in communication. In the future, if your communication comes to a higher level, then your interlocutor is quite able to be the first to start communication with you.
Remember that girls love initiative guys, and, as a rule, do not spend their time on those with whom they are not interested in chatting. Therefore, if you see that the girl is flirting with you in correspondence, you can safely ask her out on a date. It is unlikely that the girl will reject your offer, she may only show some doubts, flirting with you.