Table of contents:
Finally, the girl who hooked you up is going on a date with you. Now you must prepare a meeting, which both of you will remember. Going to coffee will be OK for the first date, but it will not impress a woman. Here's a list of places to visit with your date. You can return to it again and again if the relationship continues.

These are win-win options for any date, especially if you recently met your girlfriend and did not know her tastes.
Going to a restaurant
It is the most popular option for the first rendezvous. If you choose it, stop at a quiet place with a variety of cuisine because you have yet to learn what your companion likes. Be gallant and polite to the lady and the establishment's staff, and do not get carried away with alcoholic beverages.
Picnic outdoors
It is an excellent solution for a warm summer day. Choose a place that is not too crowded but not too private either. Prepare everything you need: food, drinks, blankets, and remember to warn the young lady about a form of clothes.
Visiting a theater or movie theater
This option is good because there will be a minimum of awkward pauses. An hour and a half or two hours of the film will give you a chance to get used to each other. You will both be passionate about watching, and afterward, there will be a topic for discussion. Even if the conversation doesn't go well, you can always talk about the movie or play you saw.
A visit to an exhibition or museum
No matter your city, you can always find an interesting historical site or exhibition. But, of course, for such leisure, it is desirable to know about the girl's tastes. So, read about the place where you will captivate the lady with an exciting story. Believe us; women are very fond of intelligent and well-read men.
Concert or standup show
It is unnecessary to overwork yourself, telling the girl exciting stories or jokes; leave it to the professionals. Positive emotions will help you both loosen up and have fun.
If you know your beloved is not indifferent to sports, you can make a date active. If unsure, you can look at a woman's social network. There you can see if she likes outdoor activities.
Hike
For the first rendezvous, you can choose a day trip. It can be a forest park area in your city, where you walk together and barbecue, or a small tour organized by an agency.
Sports game
It is excellent if you root for the same club or are passionate about the same sport. So many emotions, topics for discussion, and a little adrenaline are guaranteed.
Walking on bicycles
Choose a place with beautiful scenery and plan your route well. For example, you can drive several kilometers, stop to admire the local view, and then stop for a picnic.
Kayaking
It is active entertainment for the whole day, which you will enjoy and exhaust you. Choosing such recreation, you must be sure that the young lady is physically enduring. If so, feel free to go for a ride with your favorite. You are guaranteed a sea of positive emotions, swimming in the river, and a dose of adrenaline.
Roller skating or ice skating
It's a good option for outdoor activities. You can hold a woman's hand or even put your arm around her if she falls. You can't think of anything more romantic to do on a first date.
Botanical Garden
Give a woman flowers and take her to a place where they are everywhere. A pleasant walk in the fresh air will be an excellent opportunity to communicate and give positive emotions.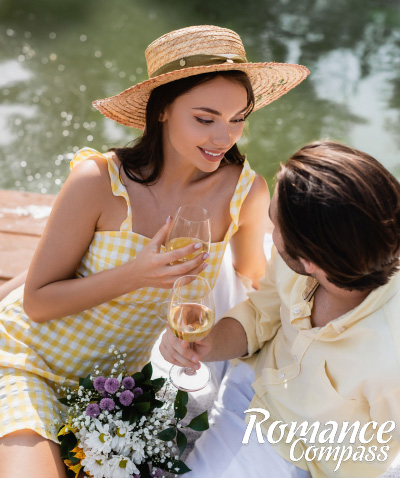 For such a date, you need to know more about the girl and her hobbies. In addition, the emotions experienced during the meeting will bring you closer if she is a fan of extreme entertainment. For this, you choose any available joy in your city. At a minimum, it can be an amusement park.
Horse riding
A fun time outdoors with cute animals. You may enjoy it so much that it becomes a hobby you share.
Dancing
To dance, going to a nightclub is not necessary; you can take a dance class – an exciting activity that will bring you closer spiritually and physically. This entertainment will allow you to hug your partner with impunity the first night, especially if you choose the tango or some other passionate dance.
Bowling
It is a sport that will suit even those not fond of active entertainment. Here you can both play and chat in the cafe. But, then, going to the bowling alley with a big company would be nice. But only if you are sure that your friends will make a good impression.
Billiard
The beauty of this game is that most men love it, and women, as a rule, do not know how to play. So here's a chance to prove yourself and teach your companion. In the process, you can make sensory contact by taking the girl's hand and more.
These are almost classic dating options, but they require more active participation. The pros side is that someone else will be present in your conversation, so the number of awkward pauses is minimized.
Alcohol tasting
What girl wouldn't love a good wine tasting? But if your budget doesn't allow you to attend a high-end event, you can always go to a nearby brewery. It's just as interesting, though less sophisticated.
Master class on cooking
A great option if your new acquaintance likes to cook. You can attend a culinary seminar, cheese tasting, or a master class on cooking some dishes. Besides, young ladies love men who can cook. It is very sexy.
Art Lesson
It could be a painting or pottery workshop. At the end of the event, you will have a souvenir that will remind you of your first meeting. This acquaintance may become fateful, and it will become a decoration for your home.
Quizzes and guest rooms
If you choose the second option, remember whether your companion does not have claustrophobia. If not, then move forward to the adventure. You will show your intellectual level and try to work together as a team. It is where you will see how the man behaves under challenging circumstances and what a life partner can become.
Aquarium or zoo
Don't think this entertainment is only for children; adults love it too. In such places, we all return to our childhood and better open up to each other. The only point is to find out if your chosen one is a member of society for the protection of nature. If yes, you can go to the animals in a shelter. There you can buy treats and spend a few hours helping our little brothers.
Farmer's market or food festival
It's a walk, a tasting, and an exhibition all in one. There is always something to see and discuss in such places. In addition, there, you can learn more about ladies' tastes, preferences, and hobbies.
Going to an astrologer
Be sure a new acquaintance will inquire online if you are compatible as a couple. Why put it off for a long time? Offer her to find out together. It is advisable to find out in advance how close your signs are. If compatibility is high, feel free to go to an astrologer. He will talk in colors about all the advantages of your union, tipping the scales in your favor.
Flight in a hot air balloon
It is fantastic, exciting, and romantic, but a little expensive, and only some girls will agree. If your finances are sound and neither of you is afraid of heights, feel free to take the flight. And it's a good idea to take a bottle of champagne and some fruit. She will brag about this romance to all her friends and acquaintances. Your date will indeed create a sensation, and she will remember it.
Trampolines
It is a little childish but exciting entertainment. A woman you know recently may not agree to it, but an old acquaintance will go. All places that remind us of our childhood evoke many emotions. There we can open up and relive our best moments.
Romantic dinner on the roof of the building
There are agencies in almost every city that organize such events on the roofs of high-rise buildings. You can arrange a romantic dinner and live music, depending on your finances. Although you can do it on your own: take a bottle of champagne and fruit and enjoy watching the sunset or the night sky together.
When choosing where to go on a first date, focus on the preferences of your acquaintance. If you just recently met, try to find out more about her from friends or her social networks. On the other hand, if you are still looking for something else, you can impress her with a non-standard solution or not risk and choose the usual classics. When calculating the duration of a date, leave 1.5-2 hours for socializing in addition to the entertainment itself. During this time, you can get to know the person and see if you want to continue your acquaintance.