Agree that sometimes it happens: you like two girls at once and both of them are responding with mutual feelings but you can't choose one of them and there is a desire to start dating two at once. Some guys will find that this is wrong and will not cheat on girls. But what if you really don't know who is better? And having tried relationships with them, you will manage to compare and understand who can be your soul mate.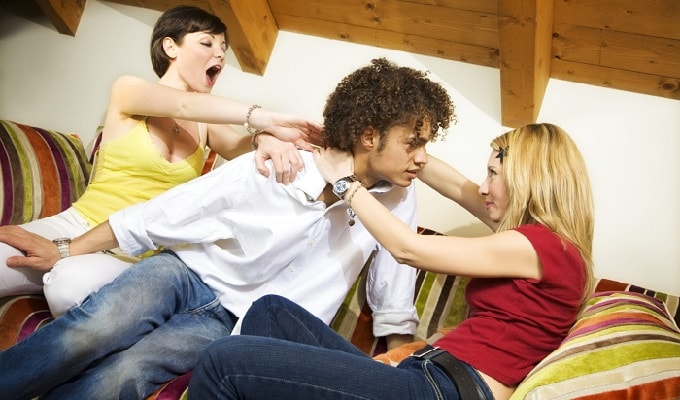 Why do guys date more than one woman?
Not many guys will take such a risky step as dating multiple people at once. Not everyone thinks this is right. Many people want it but don't know how to do it and are afraid to be exposed. Do you want to date two girls at the same time? Perhaps you think it's immoral. But what is morality? Morality is what drives you into the framework and forces you to refuse your natural desires. As practice shows, men who have relationships with many women are more attractive. Girls love those who are in demand.
Confident guys decide themselves when and with whom to date, spend time, and care. If one girl fell into disfavor, then she can be replaced by the second and the third one. Girls can condemn such male behavior but subconsciously will want to win attention even more. Therefore, if you like two girls at once, you should start a relationship with them at the same time. This article will help you make sure that none of your girls will show you direct accusations of cheating.
According to the results of the research, more than 40% of married men in large cities practice sexual relations not with their wives. The percentage is even higher among single men – more than 70% of men have two or more partners at the same time at least once in the life. And today the fact of dating two women at once doesn't shock anyone: we live in the age of emancipation.
What motivates men to date several women at once?
1. The main reason is the freedom of choice. Today, there are no external barriers (family, society, church), which at least somehow restrict the man's choice. On the one hand, this is a plus: we are free to choose our occupation, what we want to do. And dating two women, this freedom of choice is just awesome. However, there is also the other side of the situation: the institution of marriage was leveled in the eyes of most modern men. They don't hurry to start serious relationships because they believe that marriage and children prevent them from building a career and enjoyment of life. In this case, it is better to start dating multiple women, to receive the whole spectrum of sexual emotions.
2. Sex. The main specificity of such relationships: love is love and sex is sex. That is, a man consciously shares these two concepts because it's easier to control his life. While you date someone just for the sake of sex – there is no danger to your personal life. However, as soon as someone who gives us a heart appears, access to personal territory, cohabitation, marriage, and children take place. In fact, modern men have set themselves a clear framework for freedom and non-freedom. In the first type of sexual relations, there is almost no emotional connection so a woman acts as a mistress. It lasts not very long because, otherwise, it's an attempt on personal life.
Is this normal? What do relationship specialists recommend? This approach to the separation of love and sex in modern men can be called the evolution of men's qualities. Today, in the XXI century, they are like that. A modern society dictates to us these conditions: fast dates, nightclubs, dating sites. Everything is aimed at a maximum saving of our time and energy. However, this also has a downside. The fact is that love, relationships, marriage – this is what charges men more than any sexual orgies. It is inherent in nature. We come to this world to leave a part of ourselves in the form of children. And it just needs to be accepted. At the moment when we fall in love with a woman, there is a big splash of useful hormones into our blood, which further has a great impact on health.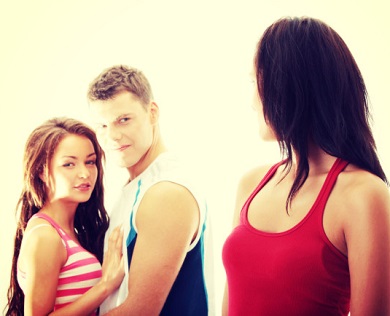 Most often men date with several women at the same time only in order to choose the very best. And this period falls on a stormy youth. What is the portrait of such men? Today it is difficult to single out a particular type of men who have several mistresses. This trend is affected by young men from 18 to 25 and adult men from 30 to 45 with a high level of prosperity. According to statistics, residents of megacities aged 25 to 35 years, single (or already divorced) with higher education and a high level of income, are dating two girls at once (more than 50 percent of men do so). But if a man gets carried away, then after a while, he understands that nothing radically new happens. Everything is the same. And some ideal of a woman will remain unattainable. Therefore, sooner or later he has to choose the one.
Dating two people at once: how to make it work
Many men are often dating two people at the same time. It is quite normal but how to hide all these affairs form girls? If you plan to start dating multiple girls, you should learn some rules that will help not to screw up. Since you are still not created for a serious relationship, try to increase the number of frivolous ones. There are so many lonely girls around – you can make happy at least two of them! At least for a while…
1. Get ready
Both "relationships" must be started simultaneously. One American sexologist confirms our bright idea: "If you already have a girl and there is a second one, the first one will feel it". But if they appeared with a difference in a day, no one will notice the difference. It is better to look for girls in bars or clubs. Girls there will not tell you: "First, get married!"
2. Observe the distance
Dating two girls at the same time, you should be pleasant in communication but still be a "mystery". You shouldn't be in excess. So, call girls not more often than 2-3 times a week. No greetings on Facebook and funny videos on Viber. And you will meet once a week. With such a schedule, you definitely have enough time for both. And thus everyone will wait for you as for a big holiday.
3. Stay calm
Our life is arranged so that by walking somewhere with one girl, you will certainly encounter the second one. It's called the sod's law. It's strange if it still shocks someone. Take the situation calmly. Introduce the girls to each other and continue the movement with the one with whom you started it. Later, you will explain to everyone that the other one is your co-worker.
4. Prepare to escape
To avoid unnecessary scandals and injuries, it is better to leave girls after 3-5 weeks. They are already so full of trouble and it is not necessary to get into a harmonious column of scumbags who leave their loved ones after 8 months of "passion and adoration". Under this scheme, you can get rid of both or only one, giving one of them the title of YOUR girlfriend. By the way, now you have every reason to finally get to know her name.
Dating two girls at once: what to expect?
What to do if you are a man who has several girls at once? Of course, spend time pleasantly – fly abroad, visit the main social events, go to restaurants! But is it worth it?
Pros of dating two girls at once
1. Feeling of own importance. It's nice when you are appreciated by more than one person. And they are women! This increases your self-esteem and gives confidence in your own irresistibility. This is a whole firework of impressions and events! Your life becomes saturated, diverse, and bright. After all, with each of your women, you will learn a variety of new places: cafes, clubs, restaurants, exhibitions, presentations... It's all so interesting!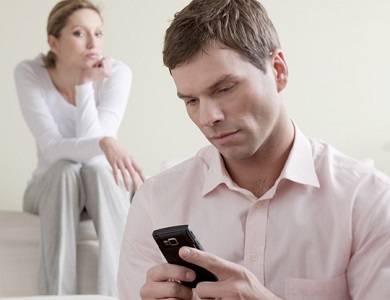 2. You can be different. You choose your own role: with someone you will allow yourself to be romantic and naive, with someone – passionate and incredibly sexy, and with someone you become funny and unpredictable.
3. Variety in sex. Today you have a beautiful mistress and tomorrow a hot and greedy girl will attack you. Why choose if you can have everything at once?
However, simultaneous relationships have their drawbacks:
1. Eternal secrecy. The first thing that comes to mind is the need for eternal secrecy. It is important to always remember the tastes of your women, the time and places of meetings, not to confuse the details of the history of relations with everyone and say the wrong name in bed! It becomes more difficult to keep all the information in your head if there are more than two partners. The world is small and even despite the huge city where you live, there is a possibility of an accidental meeting of these two girls. Believe us, such cases occur quite often! And, of course, your friends can blab (or, again, something to confuse), and envious persons can take revenge on you. Then any of your girlfriends will remain with you.
2. Bad reputation. Your connection with a few women can impair your reputation. And, the society can even put on you a label of a womanizer. And even when you settle down, you will still be reminded of it!
3. Loneliness. One of the downsides of simultaneous romances with several women is emotional solitude. There are crowds of girls around you with whom you must be on top but there is really no close person. And in order for you not to be alone with yourself or watch a movie in an empty apartment, you go to the next meeting.
4. Pangs of conscience. It's likely that your woman doesn't know that she is not your only one. You can see how she falls in love with you, trusts, and builds plans for the future, and you just have a great time, assuring her of your loyalty. And you know for sure that one day everything will be known. And it will hurt her... Or vice versa. You choose yourself a constant life partner, you try to be the best, and she also has fun because it's so easy with you! But one day she says "Goodbye" and gets married to another man. It's a shame, right?
Love for two doesn't allow us to be completely sincere with partners. We keep one of the partners at a certain distance and don't have sincere relations with another one because secrets and omissions don't give the opportunity to really get closer. Studies have shown that men are more prone to parallel affairs than women. The feminine principle is less inclined to such relationships. A man can simultaneously love two women. But this love will be different: to someone he experiences a passion, to someone – tenderness and childlike affection. Everyone chooses their own way of life and determines life principles. If you have enough time, opportunity, and attention to two partners – a love triangle can become your life position for many years.