If among many different articles your eyes caught this heading, you should read it carefully without a doubt. It just means that you are at the stage when some problems have already occurred but you are still set up to save your long-distance relationship. That is a good sign. You are not the only couple who has some difficulties in their relationship especially when it is a long-distance one. The relationship is a hard everyday work that requires patience, mutual respect, and support without taking into account love, of course. If you wish to save your couple and get your own happy end, here are some rules on how to save successful long-distance relationship from falling out.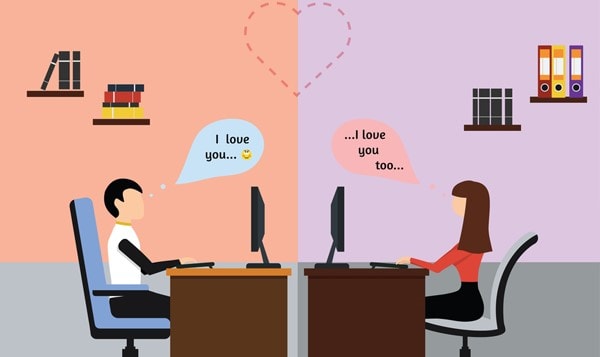 Look on the bright side.
Remember that your thoughts and mood have a great impact on your partner and your relationships as well. As somebody once said, "If you want to live together, you first need to learn how to live apart." Try to adopt a positive attitude concerning the relations. This is the first long-distance relationship advice that you should follow – accept from the very outset that every relationship has its own challenges. Just try to find some bright spots and use this time to learn new things or find new hobbies that do not involve your partner at all. Surely you have friends and family – do not let your world revolve around your mate and do not forget about yourself. You are alone but you are not lonely, choose the right way.
Give each other some space.
Ask yourself one more time, "Do I really want to save my long-distance relationship?" If your answer is still "yes", do not push your partner every time when you start to feel lonely. Do not be overly "sticky", it is okay to ask your partner about his plans for the weekend but that is too much to call him up and check whether he is with the mentioned people or not. There is no real necessity to communicate 16 hours a day to keep the relationship. When you try to compensate for the distance by calling or texting more, you might only make the situation worse. Remember: Less is more. In such a situation, it will be helpful to know each other's schedules in order not to disturb your partner in the wrong moment, e.g, through a business meeting, especially if both of you are living in different parts of the world and have different time zones.
Stop fighting for nothing.
Long distance is always difficult to both and each thing seems to be a big deal when it comes to solving problems while living in different countries or even continents. Every single discontent and argument seems to be like the end of the world, your own world and it is very hard to find a compromise. Your words are put under a microscope and you can't just hug your soul mate and keep him/she quiet with a kiss. Such kind relations require a much bigger amount of efforts than a usual one but they worth that if you really love. Don't let it get to you and solve such problems in person if they are really meaningful. Save a long-distance relationship tips on your mood board, highlight the key moments, and remind them yourself each time when you decide to make such a big deal out.
So, how to make long-distance relationships work?
Speak out! Talk about everything that bothers you. If you communicate a lot by emails or text messages, you might both have a simple misunderstanding. Never put the blame on your partner even if you think so. Always explain why your mood went down and what the problem you have. Prepare yourself to work. Any relationship needs a lot of patience, work, and compromise from both sides. Besides discussing your problems, tell each other what would make you happy just now – this is another opportunity to get to know each other better. Listen to each other. Sometimes all you need is to change your own attitude.
Further, there will be given some apparently easy but truly effective long-distance relationship tips.
Text each other regularly and creatively.
Do not forget to text each other "good morning" and "goodnight" every day. Use funny "stickers", choose several "yours" and send them regularly even just to cheer up. Also, find some pictures and short videos. By all these things, you make your partner feel loved.
Try to update your partner in your life especially with some pleasant moments. Over time such kind of communication will become second nature to you both. Mail each other unexpected postcards and love letters, e.g. write a short fairy-tale where the main characters will be shown as your prototypes. Send each other some cute presents from time to time: flower delivery on the first dating anniversary, movie tickets, or an interesting book.
Tell each other dirty things.
Sexual tension is a very important thing in any relations. Sexual desire is an emotional need besides a biological one. In long distance relationship, sending each other provocative photos or teasing texts filled with sexual implications will keep the flame of passion still burning.
Do things together.
Find some things that both of you will be interested in. Watch a film or some programs at the same time, read books, try some new dishes. If you are gamers – play together online games. "Take a walk together" outside while video-calling each other, show each other your favorite places. Don't be shy, you will like it. You can even go for a real online date – with a dinner, candles and wine, you surely have some impression of watched films to talk about. Long distance is nothing if you love each other!
Go on a trip together.
You have a unique opportunity to have as many honeymoons as you want because your every meeting is filled with extra intimacy and passion. Long distance makes usual things very special, you will be happy just kissing your loved one, hugging and feeling each touch, eating together in real life. So, choose any third country and go on a trip – have another honeymoon week.
"How to keep a long-distance relationship?" "How long we are going to be apart? "Will be we able to save our feelings and become a real family?" All these questions you should ask yourselves and make a plan with an ultimate goal. Your long-distance relations will not last forever and if you are looking in one direction, working towards your common future, everything will be more than just okay – it will be really cool, believe.