Most romantic destinations in the world are those where you go with your beloved one. It can be either a village or a gorgeous mansion. It doesn't really matter where you go: extreme safari in Africa, conservative town in Germany or unforgettable getaway on Bali. But what if you want to impress your young lady or your handsome man with a sudden trip? Where to go? Should you book a flight or give this task to a specified agency who'll take slighter more and will do it a bit quicker?
Today we will review most romantic places in the world for a honeymoon, including cities, hotels to stay in and restaurants that can offer the fanciest or the most delicious meals.
Most Romantic Cities in the World
Some cities just have that aura of romance, that flare, and intricate taste. You feel there at home, or as if you have found yourself in a heavenly place. You and your significant other can finally get away from usual routine and relax with a cocktail on the beach.
Paris, the city of love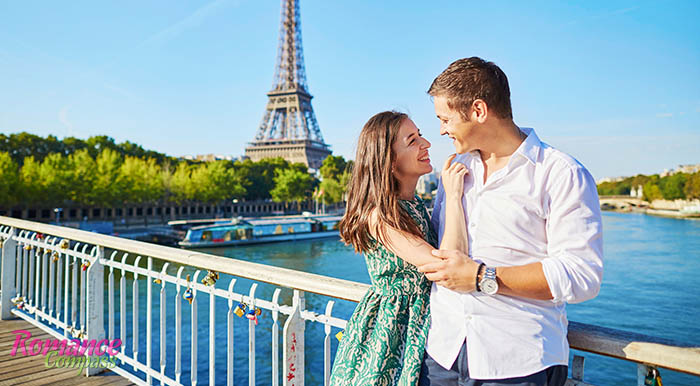 Paris is probably the most romantic city in the world. And it's called that for a good reason. When you wake up in Paris, things go differently. You don't wake up to go to work (unless you live there), you inhale air, infused with lively spirit and go for a little promenade to the river bank. You can go to a grocery store, where there are thousands of product shelves with lots of desserts, sweets, cheeses, pastry, fresh bread, nice wine, and that's only the beginning of a splendid gastronomical excursion you can experience. Moreover, if you're traveling on a budget, you can buy 1-euro snacks and food you can cook at home. I promise it is really tasty. You can also splurge and go to a local restaurant, full of succulent course starters. You can always eat lots of tasty bread with smooth creamy butter, good steaks, drink some alcohol and then go to Eiffel Tower. Montmartre is a picturesque and unique street. You can also rent a bike and take a trip throughout the city with the pace only you want, make a stop by the river, dance in the rain, meet some new people from Paris, and maybe even go a little clubbing. That is why it's a perfect city, full of mystery and romance.
Las Palmas de Gran Canaria, one of the most romantic islands in the world
If you are a fan of bigger cities, which will not annoy you with endless traffic and distract you from your little romance story, Las Palmas de Gran Canaria is the best place for you. It has a hot climate, beautiful countrysides, ocean, lovely beaches, splendid cafes and lots of opportunities to travel around the city and be enchanted by its greatness. Las Palmas Gran Canaria is one of the biggest cities on the Canary Islands. Right from the airport, you will breathe fresh air which is totally different from what you are used to. It is especially true if you live in a highly crowded city. It has beautiful plants, and you know that those palm trees are not just decorations such as in Egypt. It's not only for tourists. Especially good are their beaches. Playa de Guayedra is a special offer, probably one of the most romantic beaches in the world because there are only you, your lover, huge rocks and ocean. And nobody else.
People here leave their lives. Children run around and play some active games. Women and men have their little rendezvous near the local cafe, and after that, they take a taxi, hug each other. They're very loud and cheerful. People in Las Palmas are very calm, get lively, they are very polite, yet not boring. It is a very vivid place where you can have a rest from the local beach, take some time, exploring the city, and then go to a splendid restaurant or cafe near the ocean. They have amazing seafood, which you can buy and cook yourself if you want. They have lots of interesting national dishes, and overall the city amazes you with its calmness and vivacity. It's the city you're definitely want to grow old with your significant other.
Barcelona, an urban mystery
Barcelona is a very unique Spanish city. It is good for those travelers who want to get busy during their vacations. You definitely can't just lie down in a hotel, have some rest, eat food, and then go to a local spa salon and then sleep some more. Barcelona is good because it doesn't let you rest at least a second. The traffic is really busy here, so if you want to see some beautiful and picturesque places, you will have to figure out its transport system. You can have a quick check at a local restaurant that serves not only traditional Spanish food but also lots of styles of European cuisine. Barcelona is especially good at night, so you can go to a random cafe and meet lots of people who are very interested in talking to you. But, if that's not your top priority, you can find a quieter place. Barcelona has beautiful parks, reservations, high architectural value and lots of space for creativity. You can visit cathedrals, museums, go partying, or just stay in and figure out what to do. No wonder it's on the list of 10 most romantic places in the world.
Most Romantic Hotels in the World
Ok, so we've figured out some of the best romantic places in the world. Now let's move on to some hotels. Where can you spend the best romantic vacations in the world?
French Quarter Inn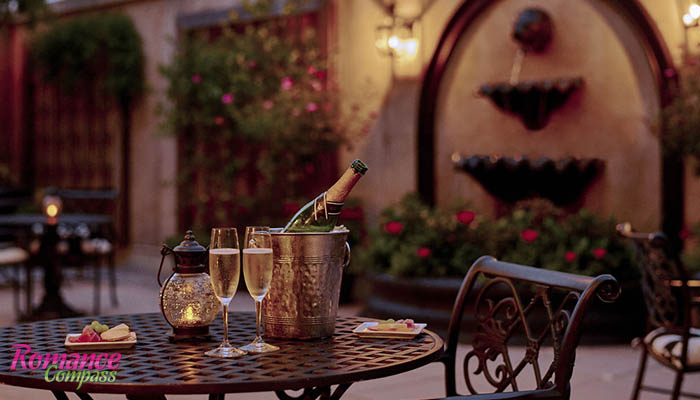 This hotel offers true luxury to its residents. It is located in Charlestown City. Its staff wants to make sure that you and your significant other are comfortable and supplied with everything here. It has a wonderful outdoor courtyard, as well as the historic placement. That is why it is so popular among travelers and couples. Rooms here are styled traditionally. Here you can lodge in a room with a fireplace, luxurious bed, exquisite furniture and lots of other amenities. Its lobby looks like a setup from a very expensive movie. Here you can try fine dining, especially its European continental breakfast. You can listen to church bells, steady water in a fountain, and birds chirping in the outside.
Scarlet Hotel
Situated in Cornwall, this hotel is a true luxury on the North Coast. It offers an amazing vacation in a Regal place, yet it looks simple and sophisticated. It has a library and a crazy good jacuzzi. It is a true place of receiving pleasure free of children, which means you can't go there with the full family, but if you want a romantic getaway for two of you, you're comfortable staying is guaranteed.
Le Prieure du Chateau de Biron
Some people call it the most romantic place in the world. This hotel is a symbol of luxury and grandiose of ancient France. It is a wonderful hotel which offers rooms with breakfast included. It is located in Biron in front of the most beautiful castles of Southwestern France, which first was a monastery that dated back 500 years ago. Its rooms are romantically simple, but they all have modern amenities.
Most Romantic Restaurants in the World
Now we've figured out the place of lodging, favorite cities of traveling couples. But we have a very important question: what and where to eat? Here are some preferences of lovers on vacation!
Aroma Restaurant
It is a restaurant where you can go if you happen to be in Rome. You can go here only for an amazing panorama where both of you can observe ancient Colosseum. Put on your best clothes and spend a beautiful date night in Rome. The restaurant is located on the terrace of the hotel, and it has a Michelin star. In the evening, there is live music, that's why you can both eat and dance, enjoying this terrific atmosphere.
Grotta Palazzese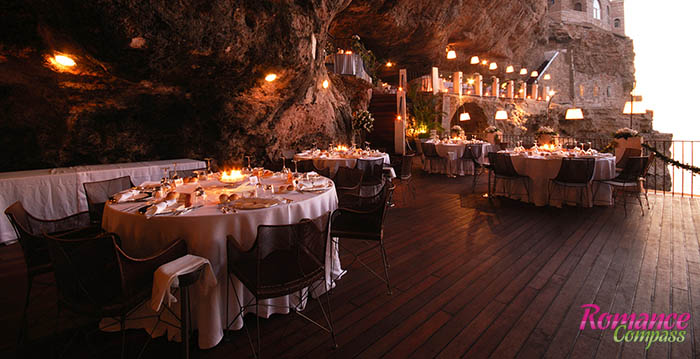 This is probably one of the top romantic places in the world. It is a restaurant in a small Italian town Polignano A Mare. You can visit it only from May to October. It is located on a grotto above the sea. Just imagine how beautiful Adriatic is when you look at it from the 25m height. Besides that, you can see illumination, which reflects in a lake. They have the most amazing seafood dishes. Just try their calamari (Thai cuisine), as well as grilled shrimps with garlic.
Wanda Cafe
It is a very modern coffee that is situated in Madrid. Here you can eat some urban modern healthy food like carpaccio, vegan hamburgers, tofu, vegetable and fruit smoothies. Besides that, in the evening they offer one of the best alcohol cocktails in the world. People especially like wonderful melon Daiquiri.
Ice Cube Bar at Galeries Lafayette
Again, let's go back to the city of Paris, which is known not only for its beautiful and picturesque landscapes but also for tastiest food on Earth. If you want to enjoy the Parisian evening sky with your significant other, while staying in a bar that offers an unbelievable panoramic view, it is just the right place. Go to the Dome of this splendid restaurant, and you will see futuristic arctic igloos. This place is known for its menu with exquisite starters. You can try lots of food by taking tapas, it's a dish that combines 3 little meals so that you can try as much food as you want. They also have splendid oysters. Enjoy!
Kasbah Tamadot
For those who are tired of marine landscapes and want to discover something new for their beloved one, dinner at the Kasbah Tamadot restaurant is perfect. Magnificent views of the Atlas Mountains and the fabulous atmosphere of Morocco will make your evening unforgettable. The interior of this restaurant corresponds to the peculiarities of the country - ancient columns, lamps that look like huge elephants, furniture in bright classical Moroccan style. Cuisine in Kasbah Tamadot will offer its guests an unforgettable palette of flavors of traditional Moroccan food and flavors of an unlimited variety of spices.