The pin-up style appeared in the 30s of the last century in America, and at first, it was considered only an advertising style for magazine illustrations and graphics, having nothing in common with real life. Cheerful flirtatious girls in the light, fluttering dresses, lush skirts, bathing suits smiled from the covers of popular magazines, posters, postcards. The idea of beauty from the cover had an incredible success.
Pictures depicting beauties were cut from magazines and newspapers and were pinned to the wall or to furniture, this gave the name to the style. Often pictures in the style of Pin-Up depicted a half-naked girl or girl, caught in a piquant situation, and her expression was simultaneously flirtatious and surprised.
The first serious art photos of pin-up appeared in the USA in the 1930s, immediately after the famous exchange crisis, when in the air of big cities the farewell cries of bankers rang, which were thrown out of their offices. It was at this time that someone from the editorial board of the popular magazine Life decided to decorate the cover of the next issue of the magazine with an image of an elegantly curved girl with a clear hint of sexuality.
Do not think that the first pin-up, even in America, was quite bare. It did not come immediately. In those days, America would not tolerate open debauchery, but soft hints of gender differences were not prohibited. Girls in fluttering dresses with bare legs almost to the middle of the thighs, laughing crafty beauties, allowing the dress to bare the shoulders and slip almost to the breast - conservative American culture could not give the permission for something more frank.
Marilyn Monroe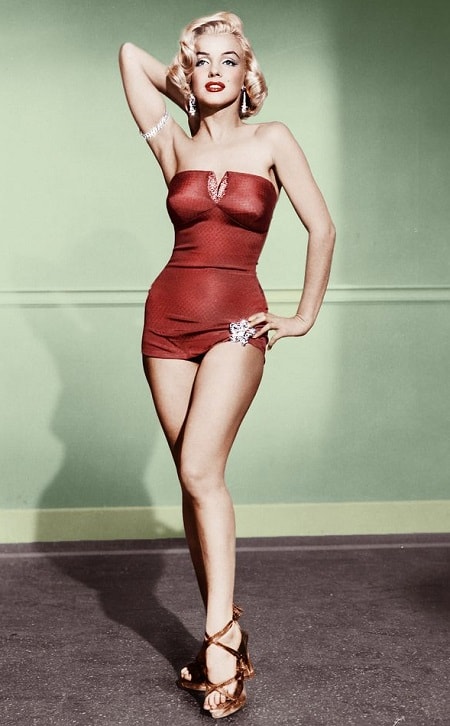 We will begin our top of the pin up girls with the most famous beauty in the world - the charming pin-up model Marilyn Monroe. A talented singer, actress, and model - all these titles belong to the fatal blonde by right and no one has ever dared to argue it.
Marilyn's appearance is ideal for pin up images - snow-white smile, curvy curly hair, slender figure, charming legs and unique coquetry. Thanks to her talent, Marilyn skillfully demonstrated these qualities. Photographers were lining up to get a photo session with her participation.
Most of Marilyn's photos in the pin-up style were made in 50's. At that time the girl was at the peak of her deafening fame. Any self-respecting man who had already begun to be interested in the opposite sex carefully kept a photo of Marilyn Monroe in the style of pin-up.
Rita Hayworth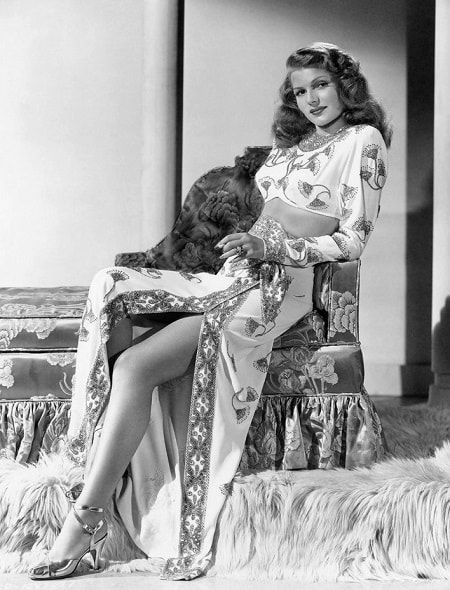 Our next pin up model is amazing Rita Hayworth.
Rita was born in the family of artists. From an early age, she began to perform in nightclubs with her father, a famous flamenco dancer. When the girl became a little older, the agents of the 20th Fox Century studio drew attention to her. Her first roles were insignificant, but the actor's talent of the girl was too obvious to lose sight of. A couple of years later, the girl received several high-profile roles in a row, which brought her world fame and long-awaited success.
Rita was ideally suited for being a pin-up model. She had a childlike, angelic smile, but at the same time, there was definitely a spark of enthusiasm in the eye, which, if given freedom, promised great adventures to all around. Among Rita's photos, there is both a classic pin-up and a more modern version of it, where the girl poses in a more "mysterious" image. If you are into vintage pin up girls, check her right now!
Anita Ekberg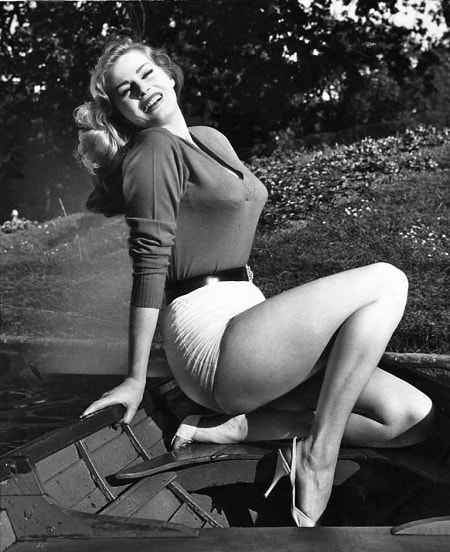 Anita Ekberg embodies the southern charisma and sexuality. Her main role in life is Sylvia in the film of Federico Fellini "Sweet Life".
It is noteworthy that Anita is not Italian, although it is in the homeland of pizza and spaghetti that she is loved most of all and considered an Italian sex symbol. Anita Ekberg was born in the south of Sweden. From an early age, she actively manifested herself and sought creative work. As a teenager, Anita tried herself as a model. Anita's mom noticed the potential of the girl and offered to participate in the contest "Miss Sweden".
Then Anita moved to the US to develop a modeling career. She took part in the "Miss Universe" contest. Despite the fact that the girl was not able to take the prize, she received an offer from the Universal studio. This was the beginning of her great career in film industry.
Anita participated in many photo shoots in the style of pin up. In our opinion, the best photos are those black and white. This is the classic of the genre - long slender legs, pin up makeup and nothing superfluous.
Cyd Charisse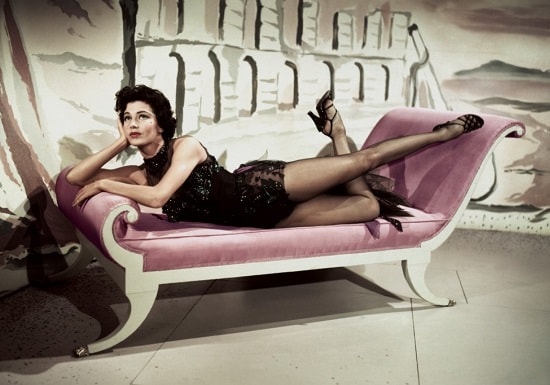 American dancer and actress. Cyd Charisse, born Finkley, was born on March 8, 1922, in the city of Amarillo (Texas, USA). From the age of six, she started to dance. At the age of 12, she began studying at the Ballet School in Los Angeles. She performed in Ballet Russe de Monte Carlo, as Felia Sidorova, and later changed her name to Maria Istomina.
A logical continuation of the girl's career was entering a film industry. In 1943, she first appeared on the set. One of her debut works is "Mission to Moscow". However, the real fame came later: having starred in the film "Singing in the Rain", in a duet with Gene Kelly, she became really famous and her acting career began to develop rapidly.
In 1952, the legs of Cyd Charisse were insured for $ 5 million. According to the Guinness Book of Records, this was the highest insurance of those years. If you are surprised by this deed, look at her photos. This is a masterpiece vintage pin up girl.
Ava Gardner
Poor fellow with an aristocratic appearance several times had a chance to come close to what many would call absolute happiness. But she did not even try to save the gifts of fate: she lived only according to her own rules, loved strong words and alcohol. She decided who would be her next beloved, and at the end of the long trip called life, she was left completely alone.
Ava Lavinia Gardner was born on December 24, 1922, in North Carolina. She grew up in a large family of farmers whose well-being did not allow even to dream of a brilliant education or a dizzying career. Nature bestowed perfect beauty on Ava, which opened her the door to the fantastic world of cinema, fame, wealth and temptations.
Who knows who Gardner would be if the photo made by her sister's husband, Larry Tarr, did not catch sight of MGM's agent. With a terrible southern accent, having no idea about the acting profession, Ava went to the first shot in her life. And although at the first casting all recognized that Gardner is one of the most beautiful women who ever crossed the threshold of the studio, no one expected her success. She could not speak, could not move, could not act, could not sing or dance, but it turned out that she possessed a feature called "camera love".
If you are looking for some hot and sexy pin up girls, check out this beauty!
Bettie Page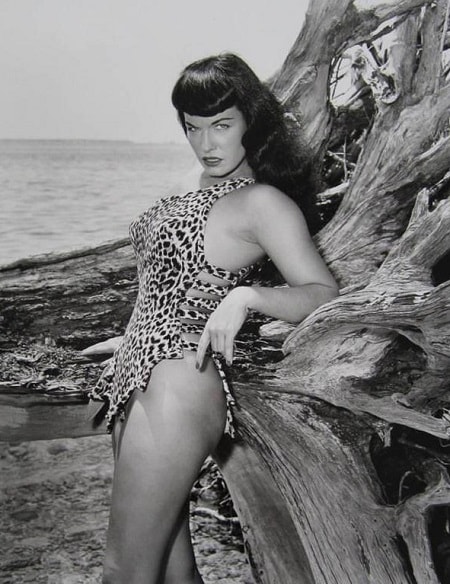 Bettie Page is the main star among 50s pin up girls. She was the driving force behind the sexual revolution that followed in the 60's.
Bettie Page was born on April 22, 1923, in Nashville, Tennessee, in a large family. She grew up practically without her parents: her father left the family when she was 10 years old, and her mother, having left for work, took her and two younger daughters to an orphanage for a year. Despite the fact that Bettie had to look after the younger sisters, this did not affect her study at school, where she was one of the best students.
At the insistence of her mother, Betty decided to become a teacher and in 1940 went to college. However, she soon realized that work in the school was not for her - an attractive appearance and a luxurious figure were incompatible with Puritan philosophy, which at that time reigned in educational institutions of USA. Then Paige decided to realize her childhood dream - to become an actress.
Once, when Betty was walking along the banks of Coney Island, she was noticed by a policeman, and at the same time a good photographer, Jerry Todd. He suggested that the girl take a few photos and make a portfolio in the style of pin-up. It was a fateful decision for both Bettie and her fans.
Dita Von Teese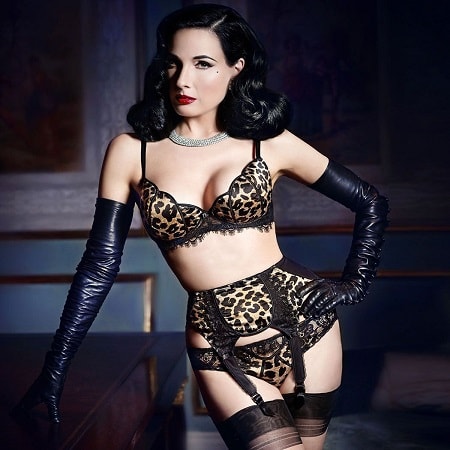 Despite the stylistics and the concept strictly tied to the aesthetic standards of the 60s of the 20th century, pin up turned out to be a style that is out of time. Dita Von Teese is a vivid example of what a modern pin-up is.
Perhaps you know this girl because she's the ex-wife of the shocking rocker Marilyn Manson. However, the whole progressive world knows her as the modern queen of the pin up culture.
From the age of four the future star of the burlesque was engaged in ballet, and by the age of thirteen, the girl had become a soloist in a ballet company. Dita was not an ordinary teenager. In her childhood, she liked films of the 40s, she collected small handbags and retro-dresses, wove roses in her hair, and never changed her style. The manner of dressing was copied from her idol, dancer Cyd Charisse, who we have already talked about.
At 19, Dita von Teese got a job at the strip club Captain Cream. She was different from other dancers in that she replaced strings and feathers with stockings, veils and long gloves. It was at this time that she changed her real name Heather Sweet to Dita, in honor of the famous actress Dita Parlo.
In 1993, Dita went on her first tour, the program of which included tricks with a cardboard moon, corset performances and bathing in a huge fountain of martini. She copied the scene with a glass from the famous stripper Lily Saint Kier, who bathed on stage in champagne.
Cherry D'lish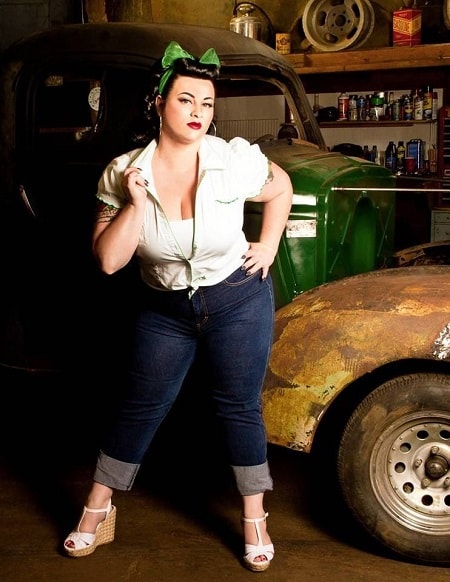 The 21st century gave the world such a phenomenon as plus size pin up and pin up girls nude. In the heyday of pin up, in the 60's, it was impossible - in the society of that time, there were unshakable prejudices about what is beautiful and what is not. Well, marketing was primitive at the time and horribly straightforward, and we all know that it is the marketing policy of companies that produce mass products that shape the aesthetic tastes of the crowd.
Thank God, now the situation has changed and we can admire such beautiful girls as Cherry D'lish. She recently started her career,but already achieved some success. Be sure to subscribe to her profile on Instagram, it's worth it!