Women often come up with the image of an ideal man. Being in a relationship, girls start expecting when their chosen ones understand what qualities they want to see in them. If men don't meet their expectations, the girls face strong disappointment. This happens due to the different ways of finding a partner. If you compare them, you will see that men always try to simplify this task. First of all, guys evaluate a girl basing on her appearance and communication. If everything suits them, they can ask a girl out and have sex. As they have arranged at least several dates and got to know the girl better, they can start reflecting on a relationship or even pop the question if the girlfriend seems to be a perfect wife.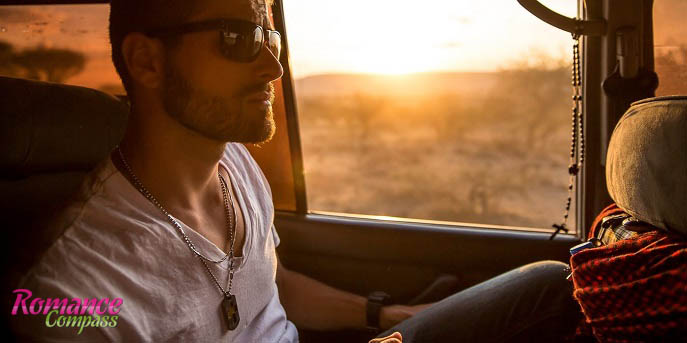 Talking about women approach, they try to decide whether a man can become a good husband or not. They don't want to spend years, looking for the answer to this question. Frankly speaking, they label their men almost at once. So, if a man acts gradually, deciding what to do next, a woman does everything immediately, not wanting to waste time. She wants to understand literally on the first date whether she has chances to get married. Of course, it's difficult to say how much such an approach is justified, but you have nothing to do with that. So, let's better define the traits of a man that any woman is searching for.
1. Confidence
This is a comprehensive trait which is perceived as a foundation of masculinity and which helps a man in work, friendship, relationship, and different emergency situations. When a man is confident, then most emotional issues take a back seat and all practical challenges turn out to be easily met. Any girl understands that this is one of the best qualities in a guy, which show how perfect the relationship with the man will be. A confident man makes his woman beautiful and great because if he suffers from a lack of confidence, he will not allow his woman to develop and become better. Such a man is afraid of "losing scores" and being involved in a competition with a smarter partner.
2. Sense of humor
If a man has the inner strength to laugh at different challenges, then he has one of the required qualities of a true man. It attracts almost everyone and is considered one of the most important qualities. However, it is necessary to distinguish a person with a great sense of humor and an ignorant buffoon who is just wisecracking and bad joking. Women are attracted to men who feel the right moments for joking to make a woman smile, relax and forget her problems.
3. Intelligence
According to some researchers, more than 60% of girls consider intelligence to be one of the most important traits of a man. Smart men take responsibility for their girlfriends, help solve their problems and make them feel safe. Girls never get bored with guys who don't forget about self-education. You know, women just want to feel that their men are able to make decisions and think through everything in advance. If a man is not able to maintain communication as well as to say anything clever, then what is a reason to have sex with him? It may sound strange, but many ladies are sapiosexual.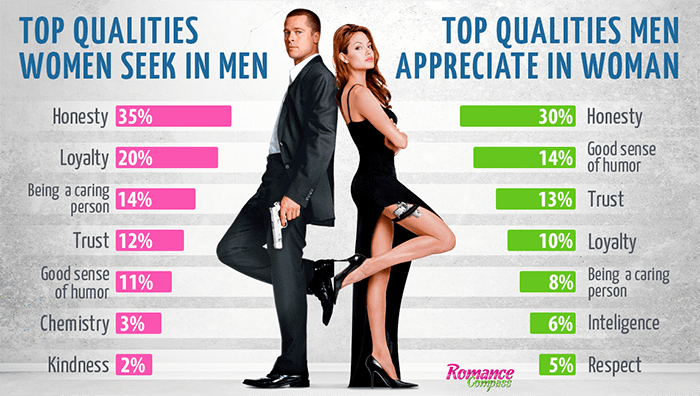 4. Ability to show signs of attention
You will hardly find a girl who doesn't like pleasant and unexpected surprises, which can be expressed in small pleasant things. For example, you can arrange a romantic evening at home, running a bubble bath and lighting many candles. You can surprise her with a sensual kiss, gentle touches or gentleman politeness (open the door, make a cup of coffee in the morning). Any girl wants to get these signs of attention unexpectedly as a pleasant surprise, and not as a manifestation of formality or obligation, which means nothing but a commitment to tradition.
5. Self-control
Men should control themselves, especially in stressful situations because women are just made of emotions. There are a lot of great men who, at first sight, have many positive traits. However, when they face a certain stressful situation, many of them immediately turn into 7-year-old boys, who have lost their favorite toys. An angry, aching, hysterical, or offended man doesn't show any signs of masculinity. Women seek for the support, so self-control is one of the best qualities in a guy.
6. Sense of style
The sense of style is the way you introduce yourself to beautiful and well-dressed girls. Sloppiness can suit somebody only in those cases where it fits, for example, at concerts, fests or a hangout with close friends. However, if you know that a girl pays much attention to her appearance and outfits, it will be stupid to put on a T-shirt and shorts going to the restaurant on a date. Such people look like as if they have just confused events or forgotten where they were going to go. If you don't know what to wear, ask your woman friend who has a great taste to get a couple of outfits for several occasions.
7. Trust
If a man cannot be trusted, then how can a woman build a harmonious and healthy relationship with him? You can be surprised, but a clever girl looks not only at a man's attitude towards her but also at his behavior towards other people. It is very important to find out in advance how and what he tells about his ex-loved ones, how he treats his close friends and relatives. After all, a person who shows only unworthy traits of a man with strangers can demonstrate the same attitude to his girlfriend one day. If a man cheats, shows two faces, and betrays other people, he cannot become a perfect partner.
8. Ability to bring sexual pleasure
You understand that sex shouldn't be a routine. It should be sensual or rough from time to time as well as filled with many unusual but pleasant things. Girlfriends like different sex, so it is important to diversify it. Nevertheless, few women like lack of the partner's initiative during the process. After all, this is not a one-way street. It is important for women to know that you like what you see, that they are desirable and very beautiful at this moment. Besides, a man should show not only masculine traits but also a desire to satisfy his woman. It means that you should focus on the process, showing great interest and concern for the woman's level of satisfaction.
9. Wisdom
Many people think that only a woman should be wise. However, what would happen to families if only a woman was wise? If a man is stupid or immature, then he can turn his relationship into a shambles. Moreover, you should understand that wisdom means not the intelligence of a person, but their ability to apply existing knowledge. The ability to solve any questions is wisdom, and in fact, it is a man who is a more social being than a woman, and wisdom is his main virtue.
10. Ability to communicate
It's not just about usual talking because it does not mean that a man knows how to communicate. He might admire his voice, telling some "very interesting" things. However, if a guy definitely does not listen to his partner because he is too busy with his dialogue within himself, he will significantly differ from those men who really know how to communicate. Any man should be able not only to express his desires, emotions, and feelings but also give the woman the opportunity to speak out.
11. Compassion
If a man does not know how to forgive and forget the mistakes made by a woman, then he is not capable of being an adult. A wise man is not trying to blame everyone, but he is looking for ways to eliminate drawbacks. He will not blame his woman for failure, but, on the contrary, will help cope with all difficulties. This is the manifestation of spiritual strength and wisdom, or in other words, of what women want in a man.
12. Loyalty
18 out of 20 women will put such quality as "loyalty" on the list of top qualities of a good man, which is considered to be sexual. The tendency of a woman to be attached is a part of her nature. Therefore, learn to be true to your choice if you want to be called a true man. Confirm your loyalty with deeds, but do not also forget about pleasant words. Tell your beloved one that she is the dearest person to you, and you love her to the moon and back.
13. Kindness
Young girls may still fall in love with the "bad" guys, but more experienced women are attracted to positive qualities in a man like kindness. This trait brings certainty to the woman and gives confidence in her chosen one. In other words, if you treat animals and the people around you with kindness, such behavior tells about your good heart, regardless of the circumstances.
14. Ability to listen to
You cannot even imagine how annoying inattention on the part of a man is. A woman feels comfortable and safe when she knows that her man has moved some stuff around and is listening to her. For her, these are magic words, "I'm here. Tell me everything." It is not always necessary to immediately offer a solution to all her problems. Perhaps, she is not going to solve them right now. Nonetheless, the opportunity to tell someone about her feelings help her calm down and reach a decision.
15. Neat look
Almost three times more women appreciate a smoothly shaved face than the ability to press a barbell. Muscles will help you stand out in the crowd and convince a woman that you will be able to carry her if necessary, but your appearance is of greater importance to her than the size of your triceps.
Women believe that if a man is physically fit, then he has right men habits and doesn't forget about self-control.
Criteria of unconscious choice
Girls are biological creatures, and instincts control their behavior with amazing dexterity. Thanks to researchers who conduct different tests, you can understand the principles of human interaction much better. For example, there are several criteria which women subconsciously use to determine whether you are suitable for the role of their potential partner.
Color. Studies which were conducted in different countries of the world have shown that men on a red background or in red clothes seem to be more sexual for most women. Despite the fact that these men are not very handsome. Researchers have found that red color is associated with strength and high social status.
Smile. Girls who are searching for committed relationships pay more attention to friendly guys. Researchers say that a smiling face tells a woman that you are always ready to help and make commitments. On the other side, women who are looking for one-night stands, pay attention to the melancholic and mysterious men. However, all ladies agree that good teeth are of great importance.
Smell. It's not a surprise that women decide whether a man suits them or not with a help of smell. Over the past 20 years, scientists have studied this fact thoroughly and found out that a woman is looking for a man whose smell differs from her own as much as possible. The fact is that there are more chances to get strong and healthy offspring.